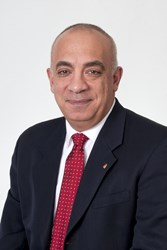 Eli Nazal is providing fiscal, strategic, and operational leadership for our MENA operations to expand Gannett Fleming's international reach.
Doha, Qatar (PRWEB) January 15, 2014
Gannett Fleming's Middle East North Africa (MENA) operation expands with the addition of Eli Nazal, P.E., managing director of MENA operations. In this role, Nazal is responsible for strengthening and developing Gannett Fleming's presence in the MENA region through strategic marketing and project procurement. He will be based in Gannett Fleming's Doha, Qatar office.
"Eli is a hands-on leader who will identify opportunities that match our strengths in diverse markets and economies," said Robert M. Scaer, P.E., president and chief operating officer of Gannett Fleming, headquartered in Harrisburg, Pa. "He is providing fiscal, strategic, and operational leadership for our MENA operations in an effort to expand our firm's international reach." With a rich history of international experiences, Gannett Fleming has strengthened the built environment with projects in more than 65 countries.
Nazal brings more than 20 years of international experience in business development and operations, financial management, and risk assessment. Previously, he served as infrastructure advisor to the U.S. Agency for International Development, Office of Afghanistan and Pakistan Affairs. He also has held multiple public and private sector positions in the MENA region, including positions with AECOM Technology Corporation in Kuwait and Habtoor Leighton Group in Dubai, United Arab Emirates.
Nazal's hire follows the launch of the Gannett Fleming offices in Abu Dhabi, United Arab Emirates, and Doha, where the firm has contributed to significant intelligent transportation system projects.
Additional Gannett Fleming services in the MENA region include transportation, construction management, geographic information systems, geotechnical, structural, mechanical/electrical, water resources, dams/hydraulics, architecture, power, sustainable design, and environmental management/remediation.
Nazal is a professional engineer and holds a master of civil engineering from Wayne State University and a bachelor of science in architecture from Northeastern University. He is a member of the Society of American Military Engineers.
Gannett Fleming is a global infrastructure firm that provides planning, design, technology, and construction management services for a diverse range of markets and disciplines. With 2,000 employees, we have helped to shape infrastructure and improve communities through transportation, environmental, water, power and facility-related projects in more than 65 countries. The firm embraces sustainability and innovation for all activities, finding the best solutions and the most efficient processes while being responsible stewards of the environment. Founded in 1915, Gannett Fleming had $305.6 million in revenues in 2012 and has more than 60 offices around the world. We are proud to be ISO 9001:2008 Certified.