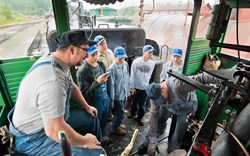 NRHS is teaming up with railroads and museums to offer students an exciting week of train operations, facility tours, workshops, rides, and more.
Philadelphia, PA (PRWEB) January 15, 2014
Where else but at RailCamp can high school students learn how to inspect a working steam locomotive in a real roundhouse, visit Amtrak's national operations center and take a course in railroad operations and dispatching?
Limited space remains for this year's RailCamp programs (http://www.nrhs.com/program/railcamp), which give hands-on railroading and preservation experience to high school kids on both coasts. The National Railway Historical Society (NRHS) is teaming with rail industry partners to offer students an exciting week of train operations, facility tours, workshops, rides and more. Multiple scholarships are available.
RailCamp East will be held July 6-11, 2014, and be based in Newark, Delaware, with some activities in Strasburg, Pennsylvania. The RailCamp Northwest program will take place on July 27 - August 2, 2014, and again be held in Tacoma, Washington. Daily camp schedules are listed below.
The NRHS program has hosted nearly 500 high school boys and girls in its 15-year history. Students learn about preservation techniques, railroad history and career opportunities. Both camps allow students to interact directly with rail employees and learn what it takes to be a railroader.
In RailCamp East, longtime partner Amtrak will host campers at its National Operations Center and High-Speed Rail Training Facility in Wilmington, DE, where they will be immersed in the daily operation of the nation's passenger railroad. Students will also spend two days at the Strasburg Rail Road and the Railroad Museum of Pennsylvania in Strasburg, PA, where they will learn about restoring steam locomotives and vintage passenger equipment. The railroad museum will also teach campers about the unique history and culture of Pennsylvania railroads. Lodging and meals will be provided at the University of Delaware in Newark, DE.
RailCamp Northwest will include a day with Amtrak at the newly renovated King Street Station in Seattle and its adjacent maintenance facility. Students will visit the operations center of Tacoma Municipal Belt Line (Tacoma Rail) and participate in a working intermodal operation. Other locations include the Northwest Railway Museum at Snoqualmie, WA, and the Mount Rainier Scenic Railroad at Mineral, WA, where campers will help with preservation activities, physical plant maintenance and train operations. New to the program is a day at Seattle's Sound Transit facility to explore the operations of commuter trains and light rail transit. Students will be housed at the University of Puget Sound in Tacoma.
Registration forms and news can be found at http://www.nrhs.com/program/railcamp, as well as the society's Facebook page at https://www.facebook.com/RailPreservation. E-mail the society with questions at info(a)nrhs(dot)com.
East Schedule:

Sunday: An opening presentation from the Railroad Museum of Pennsylvania (RRMP) exploring the history of railroading in Pennsylvania and today's industry.
Monday-Tuesday: RailCamp students will explore Amtrak's Training Facility and use it themselves. They will learn about long-distance operations, dispatching, and equipment management. Campers will also spend time in the Wilmington Training Center with the simulators used to teach those skills, and take a class on air brake systems. The visit will conclude with a walk-through tour of operations at Wilmington Station.
Wednesday: It's off to Strasburg and the Railroad Museum of Pennsylvania. Campers will see examples of steam locomotive restoration, tour museum facilities and begin a campers' special project. A special event will be a one-of-a-kind "Scavenger Hunt" on the RRMP museum property.
Thursday: A day at the steam-powered Strasburg Rail Road. Campers will perform hands-on yard operations: switching, coupling, brake tests and shadow the train crew as they perform a pre-trip inspection. In the shops, wooden car restoration will be underway. Campers will also operate the railroad's live 15" gauge steam train.
Friday: Campers will return to RRMP to complete a special project and give an interpretive presentation, which campers will have prepared the previous night. After lunch, the campers will ride the Strasburg Rail Road to Lehman Junction and back. Campers will have plenty of time to explore the RRMP and Strasburg Railroad yards.
Northwest Schedule:

Sunday: RailCamp Northwest will begin with an evening presentation about how Tacoma became the railroading hub of the northwest coast.
Monday: Campers will travel to Seattle by train to spend a day with Amtrak, learning how long-distance passenger trains are serviced and prepared for outbound trips. They will learn about station operations in the newly-restored King Street Station, plus get a close-up look at the "Talgo" technology used in the Cascades trains that run between Vancouver, BC and Eugene, Oregon. Campers will return to Tacoma via Talgo.
Tuesday: In Tacoma, campers will experience the assembly of cross-country container trains, from unloading containers off ships and onto rail cars to assembling full trains – followed by servicing the locomotives and delivering them to train crews. The day ends with a freight yard barbecue.
Wednesday: At the Northwest Railway Museum in Snoqualmie, campers will join in restoring historic passenger cars and build a special project to take home. Campers will learn the necessary steps to decide if a railroad artifact should be cosmetically restored or fully refitted for service, and view and discuss examples.
Thursday: A day with the Mount Rainier Scenic Railroad will include steam locomotive restoration, track maintenance and tourist operations. Campers will inspect a steam engine before it enters service, and possibly fire up a steam engine from cold boiler to full pressure. Every camper gets to operate a locomotive under the watchful eye of Mt. Rainier's chief mechanical officer.
Friday: Campers will visit Sound Transit in Seattle, where they'll learn how rail transit agencies move people in an urban environment. They will also view and operate trains, plus tour the maintenance shops and dispatching facility.
Saturday: Campers will actually work two of the three scheduled tourist trains on the Mount Rainier Scenic – including pre-trip inspections, brake tests, loading and unloading passengers, taking tickets, and passenger service en route.
Founded in 1935, the National Railway Historical Society (NRHS) preserves and raises awareness of America's threatened railroad heritage. NRHS operates historic rail excursions and tours throughout North America and supports more than 150 regional chapters. Since 1991, the non-profit organization has awarded nearly $600,000 in railroad preservation grants.
Media Contact:
Elrond Lawrence
Director, NRHS Public Relations
831-632-2183
elawrence(a)nrhs(dot)com