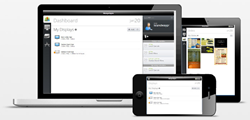 Local businesses, non-profit organizations or anyone looking to benefit from digital signage can be up and running in no time with Mango Signs free plan. Give it a try and you will see that it's the easiest signage platform to setup out there.
St. Petersburg, FL (PRWEB) January 16, 2014
Mango Signs has just released their cloud-based digital signage software, allowing small business owners to leverage the benefits of digital signage without a large budget or IT staff. The cloud-based platform can be managed from anywhere which gives users the freedom to change content instantaneously when the need arises. Users can register to download and install the display and designer software on any PC, then select one or many templates to customize from the library of professionally designed templates.
The company offers three types of plans, including a free basic plan that allows companies to see how digital signage can help deliver their message. The free account plan allows small businesses access to all core features and basic apps available in the app library, as well as one user to manage up to three signs. Access to apps from the Plus plan is included for the first few weeks after registering so companies can determine what features are useful to them.
Plus and Enterprise plans include additional features such as the ability to build interactive touchscreen content, additional apps from the app store, an extended library of customizable templates, as well as more users and storage. All plans are contract free, so they can be upgraded or canceled at any time.
Mango Signs also features a library of apps which is constantly growing, the current apps include weather, RSS news feeds, scrolling content, playlists, and more. There is also an SDK that allows developers or companies to create their own applications to be used themselves or shared with the community. Users are encouraged to suggest templates and features for future development in the open discussion area.
About Mango Signs:
Mango Signs is a frustration-free digital signage software program, which is designed to be running within minutes. For more information or to sign up for a free account, please visit http://www.mangosigns.com.