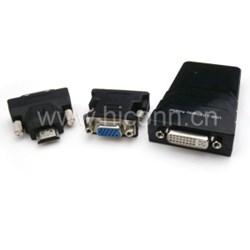 (PRWEB) January 18, 2014
Hiconn Electronics is a leader in high end electronics products. Recently, the company has proudly unveiled its new collection of USB 2.0 to DVI Adapters. What's more, all these devices are now provided at discounted prices, up to 29% off.
The CEO of the company says, "We are pleased to add the new USB 2.0 to DVI Adapter assortment to our product line. Each of them is of top quality. They are made from the best materials and promised to be durable. I am sure worldwide clients will like them."
The detailed information about the company's brand new USB 2.0 to DVI Adapters is as follows:

Video output with DVI connector.
Support function: 1. Primary 2. Extended 3. Mirror.
Easily connect additional monitors by using a USB 2.0 cable.
Simple to install & use.
Quickly add up to six displays to a desktop or PC with minimal configuration & without an additional graphics card.
Mirror or extend a computer display workspace.
Support resolution up to 1280x1024, 1400x1050 at 32 bit color.
Support up to six simultaneous displays.
Allow for effortless multitasking bus power, no external power supply needed.
Support Windows 2000 SP4 / XP SP3 / Vista SP1(32/64 bit) / Windows 7(32/64 bit) and Mac OS 10.4 or above.
Hiconn Electronics is a well-known supplier in the global market. Its USB 2.0 to DVI Adapters are among the most popular items in the world. The company's top experts always pay much attention to customer needs and requirements. In addition, the low prices of its high quality products attract plenty of worldwide distributors.
About Hiconn Electronics
Hiconn Electronics (Shenzhen Hiconn Electronics Co. Ltd.) is devoted to designing and manufacturing a wide range of connection cables and customized cable assemblies, offering many HDMI cables, VGA cables, SATA cables, USB cables, 1394 cables, DVI cables, SCSI (Small Computer System Interface) and more. For more information, please visit http://www.hiconn.net/.
Contact Person: James Yin (Sales Director)
Company Name: Shenzhen Hiconn Electronics Co., Ltd.
Address: Shenghua Building., Xixiang Road., Baoan District, Shenzhen, Guangdong Province, China
Zip Code: 518102
Tel: +86-755-8109 8345
Fax:+86-755-2779 3497