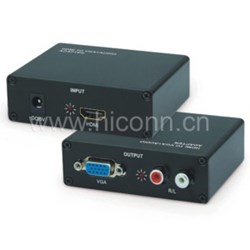 (PRWEB) January 19, 2014
Recently, Hiconn Electronics, the world's leading converter manufacturer and retailer, has unveiled its new designs of HDMI to VGA Converters and announced its New Year special offer. All people can access big discounts, up to 30% off, before February 15, 2014.
As a long-lasting supplier in the industry, Hiconn Electronics understands that product quality is essential to a company. Thus, all its brand new HDMI to VGA Converters are made with top quality materials. They are specially made for the international market.
The followings are some details of the company's HDMI to VGA Converters:
*Model NO.: HVA-2M
*Application: Multimedia, DVD Player
*Type: Coaxial
*Certification: RoHS, CE, ISO9001, UL
*Easy to use, installs in seconds, no settings and it is a resolution pass-through converter

Purely for conversion between video formats but not convert the input/output video resolutions
Audio output format: 2 channel LPCM
Compliant with HDMI 1.3
Support HDCP 1.2
Supports 165MHZ/1.65Gbps per channel (6.75Gbps all channel) bandwidth for HDMI Input
*VGA resolutions: 640 x 480@60Hz, 720 x 576@50Hz, 1280 x 720@50/60Hz, 1920 x 1080@50/60Hz, 800 x 600@60Hz, 1024 x 768@60Hz
The company's HDMI to VGA Converters come in several specifications. Customer satisfaction is among the most important things of its business. With a vast knowledge of craftsmanship and customer needs, its top experts can always create what clients actually need. Along with the low rates, discounted shipping fees are also offered by the company's online shop.
About Hiconn Electronics
Hiconn Electronics (Shenzhen Hiconn Electronics Co. Ltd.) is devoted to designing and manufacturing a wide range of connection cables and customized cable assemblies, offering many HDMI cables, VGA cables, SATA cables, USB cables, 1394 cables, DVI cables, SCSI (Small Computer System Interface) and more. For more information, please visit http://www.hiconn.net/.
Contact Person: James Yin (Sales Director)
Company Name: Shenzhen Hiconn Electronics Co., Ltd.
Address: Shenghua Building., Xixiang Road., Baoan District, Shenzhen, Guangdong Province, China
Zip Code: 518102
Tel: +86-755-8109 8345
Fax: +86-755-2779 3497