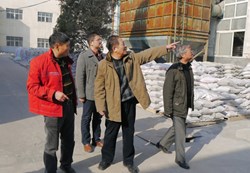 The aims of iAbrasive's visit to these factories are to deepen understanding of each other and lay a solid foundation for future cooperation.
Zhengzhou, China (PRWEB) January 19, 2014
Recently, iAbrasive, an international business to business trade platform for abrasives, abrasive products and diamond tools, announced that the company visited the factories manufacturing abrasives to deepen the understanding of each other and laying a solid foundation for future cooperation.
The company's principles had a tour around the workshop and discussed the development status of Chinese abrasives with manufacturers. Generally speaking, current extensive management style in China could not keep up with the high demands of the overseas market. Domestic suppliers now have been seeking a new way out.
"Actually, innovation should be in the first place. Only through continuous technical innovations will we not be knocked out from the international competition." One of the manufacturers indicated, "Now we are making innovative improvements on the old manufacturing equipments, which are to increase work efficiency by double. Overall, we still feel optimistic about the abrasives market in the coming 2014."
Information About iAbrasive
As previously reported, Henan is the core province of China abrasives industry. The superior geographical advantages and abundant natural resources nourished groups of distinguished enterprises, which provide iAbrasive with a stable customer base.
Established specifically for abrasives industry involving the online purchase of abrasives, abrasive products and diamond tools, iAbrasive is a communication and information platform (B2B) serving for both domestic suppliers and overseas purchasers. Users can inform themselves of in-depth and comprehensive information on the latest developments, trends, services and products from different areas.
The website (http://www.iabrasive.com) now is in upgrading, and the new one will be available after the Chinese lunar new year. Users are welcome to follow at twitter: iabrasive or facebook: s@iabrasive.com.
Any problem or idea about abrasive tools, please do not hesitate to discuss with iAbrasive work team.