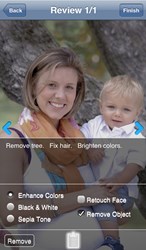 Krome has successfully brought the concept of crowdsourced concierge services to the world of mobile photography. - Hans Hartman of Suite 48 Analytics
Palo Alto, CA (PRWEB) January 16, 2014
Krome Photos announced today that they have proven demand for an app-focused concierge service for retouched iPhone photos delivered via a customized crowdsourcing platform. Results show Krome delivered triple digit month-over-month growth after September app release.
In 2013, Krome's growth proved that there is a key consumer pain point within smartphone photography, which is now ubiquitous but still lagging in image quality. Krome has met the need through the unique Krome Photos iOS app and online service. In fact, during a bootstrapped app launch in September, October and November of 2013 Krome experienced 300% month-over-month growth, while dramatically reducing the company's cost per order. In addition a staggering 35% of app downloads resulted in retouching orders delivered by Krome's worldwide team of certified Photoshop experts. The analysts at Gartner estimate that there were over 1 billion smartphones with cameras sold in 2013 and the market grew 40% from 2012.
"We are so pleased to see that customers are loving what we're offering through the Krome iOS app," commented Eduardo Llach, CEO and founder of Krome Photos. "We have been fine tuning our service since its soft launch last spring. Once we knew that our technology filled a consumer need, we embarked on a three month test to definitively prove both the value of our offering and the dramatic growth potential that exists in retouched mobile photography."
Highlight of Krome Photos results:

Cost per install decreased 80% from an initial $1.37 to $0.31 recently, pointing to a growing interest in the Krome App service.
Number of Krome app users increased over 10 times
Order rates per app installs went from 10% to 30%
Customers are ordering 1.8 Krome retouched photos on average, with many re-ordering 3 to 5 retouched photos within a month of installing the app.
"Krome has successfully brought the concept of crowdsourced concierge services to the world of mobile photography. Many mobile photographers don't have the time, tools or knowledge to edit their photos to the level they need and Krome offers a cost-effective solution for them," stated Hans Hartman, president of Suite 48 Analytics and chair of the Mobile Photo Connect conference.
About Krome Photos
Krome Photos is a San Francisco company that instantly connects iPhone photographers with an international network of certified Photoshop professional photo editors. Krome Photos is a completely new class of mobile offering and the only service available for professional retouching via the iPhone. The Krome app can be downloaded for free from the Apple App Store. Its elegance comes from the fact that it connects your important mobile phone photos directly to real human retouching professionals with just a tap of the screen. Prices range from 50 cents for Express Retouching to $6.99 for Custom Retouching where you can ask for almost anything to be retouched on your photo. A $10 credit towards retouching and printing offer is available for a limited time.