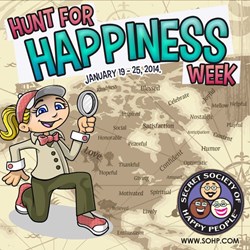 Just having the goal to hunt for happiness increases your happy awareness and therefore increases your happiness.
Dallas, TX (PRWEB) January 15, 2014
The Secret Society of Happy People's Hunt for Happiness Week is just around the corner. The 13th annual event kicks off Sunday, January 19 and runs through January 26, providing activities and tips for finding happiness.
"We've found that the hunt for happiness is actually one of the things that contributes to people's overall happiness. When you have a week that you are supposed to Hunt for Happiness, it increases your happy awareness," says Pamela Gail Johnson, Founder of the Secret Society of Happy People.
"You'll notice little things that you might normally take for granted and you also realize that finding happiness in those activities is an ongoing thing that one must do daily to stay happy. It's much like eating health foods keeps you healthy; performing activities that you enjoy keeps your mood elevated. So the more you look for happiness in little ways, the more likely you are to have happy thoughts and feelings."
When Johnson started the Hunt For Happiness week 13 years ago, it was to fulfill a request from her members who desired more activities for kids.
"Since the annual Happiness Happens month was an annual event in August, kids were somewhat left out of all of the fun. Several educators suggested moving the month to one when kids were in school so that they would be able to use the activities in their classrooms," said Johnson.
Since several states had already proclaimed the month of August for the event, a new event, Hunt For Happiness Week was created. Throughout the week, The Secret Society of Happy People sends out a daily email with three happy activities. For kids, those activities include classroom activities and homework that is a happiness treasure hunt, in which the child looks for examples of the 31 types of happiness in their week and collects mementos as reminders of them. At the end of the week, the child opens their treasure box and performs "show and tell." Adults can start their own Happiness Pinterest board where they pin things such as happy quotations, photographs, cartoons and images that instill happy feelings.
To sign up for the daily activities email during the Hunt For Happiness week, go to http://sohp.com/hunt-for-happiness-week/. Another option for people to share a token of happiness with family and friends is to share "happicons" via email, Facebook, Twitter, Google+ and Pinterest. The 31 "happicons" can be shared.
About The Secret Society of Happy People:
Pamela Gail Johnson founded the Secret Society of Happy People in 1998 to encourage the expression of happiness and discourage parade-raining. The Society has thousands of members from more than 34 countries. Ms. Johnson is a public speaker for organizations and companies around the country who want to promote happiness among their members or employees. The Secret Society of Happy People offers free membership to anyone interested in learning how to improve their happiness quotient. The free membership includes a downloadable Happiness Word Poster, a monthly Happiness Happens newsletter and an optional Daily Happiness Inspiration email. The society also offers videos, books and daily inspirations to promote happiness.
Media Contact:
Pamela Gail Johnson
(972) 459-7031
(469) 358-3914