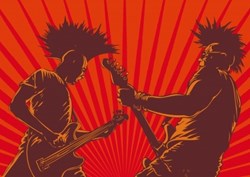 You never know what is going to happen if you don't estate plan with a will or a trust. People are always underestimating their worth and don't take into account things like asset growth, real estate, potential inheritances, and windfalls
Boston, MA (PRWEB) January 15, 2014
The Family of New York Dolls guitarist Johnny Thunders is in a battle over what was a $4,000 estate according to MSN music news (1). The New York Dolls were the forerunners of Bands such as Blondie and The Ramones. Like many forerunners that never had huge commercial success. Thunders died in 1991 of mysterious circumstances in a Louisiana Hotel.
Like many, with the small amount of assets he had, reportedly $4,000, Thunders apparently did not believe he needed to do any estate planning. "Estate planning is vital for everyone," explains Rocco Beatrice, Managing Director of Estate Street Partners, "In the scheme of one's life, the amount of money it takes to set up documents that provide many positives, such as limiting litigation, qualifying for Medicaid nursing home care, and leaving specific instructions for the distribution of wealth, is well worth it." Thunders apparently did not think $4,000 was enough to warrant any estate planning and did not leave a will.
According to court documents, the New York Surrogate Court put Thunders's sister, Mariann Bracken, in charge of the estate and the $4,000. While giving periodic payments to the family every year, Genzale grew the estate which is a whopping $250,000 today.
"You never know what is going to happen if you don't estate plan with a will or a trust," warns Mr. Beatrice, "people are always underestimating their worth and don't take into account things like asset growth, real estate, potential inheritances, and windfalls." The family continued to receive payouts from Genzale until 2009 when she passed away.
Next in line to manage the estate was to be Jamie Michelle Susanne Genzale, Thunders's daughter. New York, however, requires that she acquire a $75,000 bond in order to manage the estate. She could not afford the bond, so the estate has been dormant since 2009. "The issue of a bond to manage an estate or trust is not often discussed. The majority of states require some kind of 'insurance' to protect the beneficiaries," explains Mr. Beatrice, "Either the estate or the person charged with managing the estate must pay for the bond. This can put a great strain on relatives."
Thunders's sons, Vito and Dino Genzale, according to court documents, are now suing to bar Thunders's daughter from managing the estate. Vito and Dino both have issues with illegal activities and drug use and may have ulterior motives in their quest to get control of the estate. In fact, they have gone so far as to hire a private detective to find their mother, Thunders's wife, who also has substance abuse issues, to join them in the proceeding. "Often giving assets to children is not a good thing. When substance abuse or other illegal activity is involved, access to money can hurt," explains Mr. Beatrice, "In estate planning, an irrevocable trust can specify who gets what, when. For example, a trustee who suspects that a beneficiary has a substance abuse problem can withhold payments from the trust until the trustee deems that the beneficiary has recovered."
According to Estate Street Partners, LLC, Thunders should have had, at the very least, a will. Better, says Estate Street Partners, if he would have used an irrevocable trust for an LLC that would hold his revenues. Because Thunders was an entertainment star, he can continue to collect royalties well after his passing. If there is a resurgence in his popularity, this could be a substantial number of assets. "You don't want the state deciding what happens to your assets after you pass. Most of the time they just pick the nearest relative and put them in charge with very little guidance," warns Mr. Beatrice, "Best to put together and estate plan and make sure you're the one dictating where your assets go."
To learn how to protect assets save on estate taxes and probate costs visit UltraTrust.com, the irrevocable trust experts. Visit MyUltraTrust.com to set up a DIY, [online irrevocable trust plan.
###
About Estate Street Partners (UltraTrust.com):
Assets can be protected from frivolous lawsuits while eliminating your estate taxes and probate, and also ensuring superior Medicaid asset protection for both parents and children with their Premium UltraTrust® Irrevocable Trust. Call today at (888) 938-5872.
1) music.msn.com/music/article.aspx?news=842765 Dec. 9, 2013
2) contactmusic.com/story/rocker-johnny-thunders-children-battling-over-estate-funds_3990599 Dec. 10, 2013