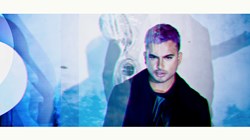 Growing up on the internet, having your eyes opened to things your parents weren't quick enough to shield you from.
Los Angeles, CA (PRWEB) January 15, 2014
Today VEVO premieres Electronic Hip-Pop artist Solomon's new music video for, "Swim No More" in support of his upcoming EP Le Garçon. Directed by Mikhail Torich, the music video is a stunning visual of the newly lavender haired popster styled by Naked & Famous and Skingraft. "Swim No More" is the leading single off Le Garçon, which comes out February 4.
WATCH SWIM NO MORE MUSIC VIDEO:
http://www.youtube.com/watch?v=M3vpy4eq5vY
Solomon's previous music video, "The Way We Were" instantly racked more than 100,000 views and was selected as VEVO's Top 5 R&B Videos for the month of September. This recognition for an indie artist helped secure product placement by MetroMint for the new "Swim No More" music video. A luxury water beverage company infusing mint with various flavors, MetroMint was the perfect fit for an artist like Solomon who is constantly bending genres with his music. MetroMint and Solomon will launch a nationwide contest later in the week in promotion of the music video, giving away sample packs of the niche beverage to Solomon's 63,000 followers on Twitter.
Having already nabbed the best sellers list on Bandcamp for physical pre-orders of Le Garçon last month, Solomon released digital pre-orders exclusively with iTunes yesterday. With every current pre-order, fans will get three instant tracks. One of the instant gratification songs is a new cut off the EP titled, "Let You Go (Part Une)", a bass heavy, R&B and Hip-Hop love song. In a recent episode of Garçon TV, Solomon described the song as, "being in this really toxic, damaging and abusive relationship."
With the EP on the horizon, Solomon is excited to shared this very personal project. Recently writing an article for Advocate Magazine, where the artist sheds light on his struggles with a mother on drugs, a father in prison and his 2011 arrest, Solomon is more open than ever. Channeling his new found energy into his music, Le Garçon, meaning "the boy" in French, plays as a response to his inner child.
"There is this boy inside of me who never had the ability to grow up. He never had a peaceful childhood, never enjoyed being a teenager and never could relish being a college student. So in the process there is this angst. This EP is about him dealing with love, loss, sex, anger and trust. I think my generation can relate heavily. Growing up on the internet, having your eyes opened to things your parents weren't quick enough to shield you from. You leave your innocence behind in favor of this need to grow up fast."
To support his new EP, Solomon is in the process of scheduling tour dates for the Spring and Summer, which will be announced shortly. He is also in the studio working on new material for his highly anticipated, long-awaited debut album Why Boys Cry.
ABOUT SOLOMON: Born a Capricorn in San Diego, CA, Solomon is a Electronic Hip-Pop singer/songwriter, rapper and producer. Introduced in 2008 on Eminem's Shade45 Sirius Radio Show, the artist has gone on to release a plethora of singles, remixes, EP's and mix-tapes. His last single, "Life Goes On…" proved to be a success on Sirius/XM and Pandora radio. With music videos debuting on MTV, VEVO, Logo's NewNowNext and more, the singer has toured with the likes of Kelly Rowland,Deborah Cox and headlined a show at West Hollywood's Key Club. Solomon's latest release Le Garçon is set to be released worldwide February 4, 2014.
For all things Solomon, please visit solomon-music.com.
###