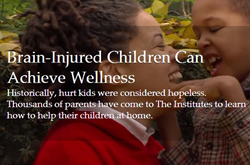 Pathway to Wellness brings help for children with Developmental Delay, Cerebral Palsy, Trisomy 21 (Down syndrome), an Autism spectrum disorder, Dyslexia, learning problem, Asperger syndrome or any other conditions that affect the function of the brain.
Philadelphia, PA (PRWEB) October 31, 2014
The Institutes for the Achievement of Human Potential (The Institutes), a leading group of expert nonprofits and pioneers specializing in child development search and discovery, today announced the launch of The Pathway to Wellness, an innovative new online resource and community.
Accessible by subscribers from across the world, an introductory version of The Pathway to Wellness is available immediately to parents of children with special needs to learn and explore educational content and practical advice in order for them to help their brain-injured children achieve wellness and reach their potential without the need to visit The Institutes' headquarters.
Parents may upgrade their subscription to obtain full access to The Pathway to Wellness' online portal, which includes video lectures by experts covering a variety of topics. This release provides nutrition, mobility and intellectual growth. Parents learn what to do and what not to do to help their child at home. The practical information elevates and empowers parents to help their brain-injured children to live their best lives.
The online resource pulls together expert advice and educational content specifically addressing a number of attention deficit disorders, developmental delay, cerebral palsy, autism, epilepsy, Trisomy 21 (Down Syndrome) and traumatic brain-injury. The lectures, researched and sanctioned by The Institutes' directors, have been delivered to parents in 50 nations and five continents across the world, enabling them to support and inspire their children directly at homes.
"The Pathway to Wellness has been in the pipeline for years, a project started by The Institutes' Founder, Glenn Doman," shares Janet Doman, Director of The Institutes for the Achievement of Human Potential and Doman's daughter. "It was my father's dream to make The Institutes' work and research on brain injury and development available to all parents of hurt children around the world who wish to know what they can do to help their child – and this dream is now a reality."
"We are excited to be able to offer families and parents a source of support and community, accessible anywhere in the world," continues Doman. "We have already seen the positive and transformative effects that The Pathway to Wellness has achieved in helping families of brain-injured children, and we hope to help thousands of families across the globe."
To sign up for The Pathway to Wellness portal, visit http://www.iahp.org/pathway-to-wellness/.
To get more information on what other families are doing at The Institutes, interested parents can sign up for The Institutes' Newsletter.
ABOUT
The Institutes for the Achievement of Human Potential
The Institutes for the Achievement of Human Potential is a group of non-profit institutes founded by Glenn Doman in 1955. The Institutes is internationally known for its pioneering work in child brain development and for its programs to help brain-injured children achieve wellness.
Glenn Doman authored the ground-breaking book "What To Do About Your Brain-injured Child", which was translated into a dozen languages and has been used successfully by thousands of families to help their hurt kids get better.
The Institutes serves children from all over the world. The international headquarters is located in Philadelphia, Pennsylvania, USA. Approved branches of The Institutes are the European Institute in Fauglia, Italy and The Doman Kenkyusho in Tokyo and Kobe, Japan. Official offices of The Institutes are in Aguascalientes, Mexico, Madrid, Spain, and New Delhi, India. The Institutes gives courses for parents in Philadelphia, Italy, Japan, Mexico, Singapore, Spain, Russia, Australia, and India.