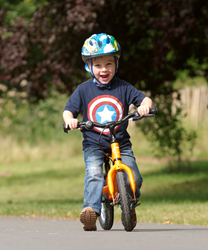 The Ridgeback UK partnership is an essential part of WeeBikeShop's mission to provide parents with a unique white glove shopping experience.
Providence, Rhode Island (PRWEB) March 11, 2014
WeeBikeShop has been appointed exclusive US importer and distributor of the highly acclaimed Ridgeback brand of cycling products in the United States. For the past eight years, WeeBikeShop has grown from a preferred balance bike destination for discriminating parents into a network of trusted specialty retailers distributing it's imported brands across the US. In 2014, Ridgeback UK celebrates its 30th year of producing heirloom-quality bicycles for every member of the family, from balance bikes to grand tour equipped "English racers".
WeeBikeShop has been providing balance bikes online since 2007, and distributing juvenile cycling products to select retailers since 2010. A brand new 3000 sf concept store in Warwick, Rhode Island provides customers with the same large selection of balance bikes, plus Ridgeback pedal bikes with wheels sized from 14" to 24". WeeBikeShop also imports and distributes a hand-picked selection of other innovative balance bikes including Yedoo, Kundo and Zelvy Carbon- the world's first carbon fiber balance bike.
WeeBikeShop's flagship product is fast becoming known as The Rock Star of Balance Bikes. The Ridgeback Scoot is an exceptional quality balance bike for children age 3-6, offering 8 color choices for it's impeccably painted 6061 aluminum frame, powerful rear v-brakes with internally routed cable, and an industry leading quick-release seat range of 13" to 20" (two seat posts are provided to make this possible). Like every Ridgeback bicycle, Scoot's saddle is ergonomically shaped, finely stitched together and features a convenient carrying handle. Scoot weighs only 11.2 pounds but has no weight limit because it is built with the same manufacturing standards and quality materials as the adult range of Ridgeback Bicycles. With warping, twisting and frame flex eliminated, Scoot's wheels are always perfectly aligned for optimal performance and control. Scoot is built like a real bike, not a toy.
The brand new Scoot XL Balance Bike will be available in Spring 2014. Scoot XL has a larger frame, larger 14" wheels and a seat range of 16" to 22", for a perfectly proportioned fit for kids age 4-8. Three colors will be offered: red, silver and green. With a Scoot XL, even older kids who have unsuccessfully tried to use a bike with training wheels can hit the reset button and re-start the learning process correctly.
For the most discriminating parents, Scoot PREMIUM gives parents and their children an opportunity to go online together and customize their balance bike with light weight upgraded components in a wide variety of colors. Individual selection of frame color, premium Schwalbe tires, alloy handlebars, multicolor hand grips, alloy stems and seat posts means that every Scoot PREMIUM is a totally unique design. With these upgrades, Scoot's weight is easily reduced to 9.5 pounds.
Premium cycling helmets from Catlike, Lazer, and UVEX provide WeeBikeShop customers one-stop-shopping for the most appealing brands. Apparel and accessories by Louis Garneau and Lezyne make it easy for customers to stock up on every cycling need. Most products are of European origin or design, appealing to the more discriminating consumer seeking premium quality from a seller with advanced product knowledge. Partnership with Ridgeback UK is an essential part of WeeBikeShop's mission to provide parents with a unique white glove shopping experience.
Ridgeback UK products are available now at WeeBikeShop.com, at carefully screened specialty retailers and independent bicycle shops throughout the US. Dealer inquiries are invited.
About WeeBikeShop LLC:
WeeBikeShop LLC (formerly FirstBIKE USA) successfully launched US distribution of FirstBIKE balance bikes in 2011 and has specialized in the sale of premium European-designed balance bikes, cycling helmets and accessories, since 2007. WeeBikeShop LLC is the exclusive US importer and distributor of Ridgeback Bikes, Yedoo balance bikes and scooters, KUNDO ultra-light balance bikes, Zelvy carbon fiber balance bikes, and Hasyun Intelligent Wool Apparel. WeeBikeShop will be exhibiting Ridgeback products at Interbike Las Vegas in September 2014.