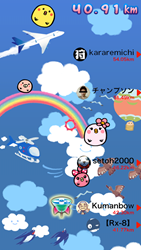 The tap action game of completely new feeling!
Tokyo, Japan (PRWEB) January 17, 2014
GoldenTime is proud to present ChickUP today in app stores across the world. The game is GoldenTime's first major free-to-play title and the first time players get to see the new feeling in tap action game.
At a city area at a suburbs of the metropolitan area of Tokyo...
Chick falls suddenly!
What's going on Chick?
Tap "Chick" to break through the atmosphere.
-How to play
The rules are simple. Tap "Chick" fluffily falling one after another. Let Chick fly as high as possible to make a new record. Game will be over when even a Chick falls on the ground. You can come from behind with helping effect while a few second when you catch items which come occasionally. "Big-Chick" of huge Chick shall be smashed with tapping repeatedly.
-Play with your friends!
Your friends in Game Center makes you more fun! You can compete for the ranking of the maximum flying height which displayed with the icons of your friends during gaming.
Download in App Store : https://itunes.apple.com/en/app/id657833805