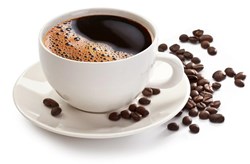 Caffeine appears to "sharpen" memory and may be helpful for paying attention to what you are studying and hence help your encoding.
London (PRWEB UK) 15 January 2014
In recent decades the properties of caffeine, the main active compound in coffee and tea, have been researched by scientists for extensive medical studies. The results show astounding benefits including lower death risks for type II diabetics, lower risks for certain liver disorders such as liver cancer and cirrhosis and a decrease in symptoms of dementia and the neurodegenerative disorders such as Alzheimer's and Parkinson's. 1 Finding the active compounds and the mechanisms involved in this protective effect have not been well defined as is part of continued medical research.
Further data suggests with the hypothesis that the dietary antioxidants found in beverages with an active caffeine compound contributes to our antioxidant defence in the same way that essential fruit and vegetables do. The single greatest contributor in this study was coffee which contains high levels of antioxidants and both vitamins and minerals are found in coffee beans which are then transferred into liquid coffee, including these B Vitamins Pantothenic Acid, Riboflavin, Niacin, Thiamine and some Potassium and Manganese. 2
The latest study conducted by the Johns Hopkins University tested the memories of 160 people over a 24-hour period to determine the effect of caffeine on memory retention and recognition. This study involved only those who did not regularly eat or drink caffeinated products and who, after viewing a series of images were given either a 200-milligram caffeine tablet or a dummy pill. Those who took caffeine tablets, rather than dummy pills, were able to observe minor changes in the images they had seen the day before on the memory tests.
Prof Michael Yassa, who led the study, said: "If we used a standard recognition memory task without these tricky similar items, we would have found no effect of caffeine. However, using these items requires the brain to make a more difficult discrimination - what we call pattern separation, which seems to be the process that is enhanced by caffeine in our case." The team now want to look at what happens in the hippocampus, the "memory centre" of the brain, so they can understand caffeine's effect.
But Prof Yassa said their findings do not mean people should rush out and drink lots of coffee, eat lots of chocolate - or take lots of caffeine pills. "Our study suggests that 200mg of coffee, or the equivalent of one large cup of coffee, is beneficial to those who do not regularly ingest caffeine. But an inverted response for regular users suggests that higher doses may not be as beneficial." 3
Caffeine appears to "sharpen" memory and may be helpful for paying attention to what you are studying and hence help your encoding, but the best way of boosting consolidation is sleep - which might be a problem in this case, if you take the caffeine too close to bedtime.
1. http://jn.nutrition.org/content/134/3/562.short
2. http://www.ncbi.nlm.nih.gov/pubmed/14506489
3. http://www.nature.com/neuro/journal/vaop/ncurrent/full/nn.3623.html