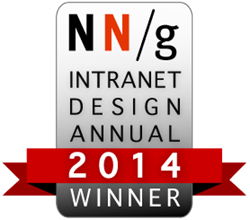 When I started working on this contest years ago I only hoped that intranets could be as great as Abt Associates' - Kara Pernice
(PRWEB) January 21, 2014
The Abt Associates' intranet team set the goal to "create a smooth, seamless, and personalized experience for users that makes them feel welcome; encourages them to contribute insights and to foster continuous learning." With BrightStarr's knowledge and expertise acquired over 7 years of delivering exceptional intranet solutions, Abt Associates was able to realize the benefits of BrightStarr's thought leadership while addressing their unique requirements.
Abt Associates is a mission-driven, global leader in research and program implementation in the fields of health, social and environmental policy, and international development. As such Abt Associates needed a system that allowed for global access to the 2,700 employee organization, with program offices spread across more than 40 countries. They opted for a SharePoint Online /Office 365 intranet system to be designed and implemented by BrightStarr for the collaboration functionality of SharePoint and the impactful analysis and design techniques employed by BrightStarr.
This Nielsen Norman award winning design that BrightStarr put in place is focused on the accessibility issues of Abt Associates' on-site project staff in limited data areas, which management considered obtrusive to Abt Associates' corporate mission statement. This issue was tackled by BrightStarr through the creation and deployment of a responsive intranet design that provided unprecedented access for the 60% of Abt Associates' staff that were previously struggling to remain connected. What's more, the solution demonstrated a proven future state for Abt Associates' as the responsive design of the intranet made it accessible to quite literally any device with a mobile signal. Alongside this increase in accessibility for staff on the go, there was a whole new focus around internal knowledge sites, project collaboration and subject matter expertise finder, that culminated in a revolutionary way in which Abt Associates' approached working together.
BrightStarr SVP Operations Glen Chambers commented, "It's a real honor to be receiving a Nielsen Norman award for our work with Abt Associates. It was a really interesting project to work on as the challenge for us was both unique and exciting. Having won Nielsen Norman awards in 2012 and now in 2014, BrightStarr really is rising to the organizational challenges of modern businesses." Glen went on to say "This is what we do and in fact is what Marketing, Human Resources, and IT departments now expect with regards to how they operate in all business situations. We take organizational difficulties and through careful analysis and strategy, blending UX and technical capabilities, and with our proven kinetica project methodology, we provide a balanced and thoughtful approach to ensure we deliver on our project goals. Our aim is to make sure that when a company implements a collaboration, social or communication solution with Microsoft enterprise technology, they get the most out of their expenditure and are able to point to a tangible return on investment.
The Nielsen Norman Group produce a report on all their awards which can be obtained through their website and Kara Pernice MD at the Nielsen Norman Group after reviewing Abt Associates' intranet said that "I am honored to have your intranet as part of the Intranet Design Award. When I started working on this contest years ago I only hoped that intranets could be as great as Abt Associates."
BrightStarr have produced a case study of this award winning intranet project which can be downloaded for free here.
About BrightStarr
BrightStarr understands the digital workplace and builds best of class solutions that increase employee productivity, elevates brands and creates multi-channel revenue opportunities. Our uniqueness is the blend of both creative and technical skills that when combined deliver truly extraordinary digital experiences with the perfect balance of form and factor. We are an award-winning Microsoft Gold partner focused on SharePoint, Office 365, Yammer and Azure, and are regularly singled out for incorporating cutting-edge design and technical excellence into all of our customer engagements. For more information, please visit http://www.brightstarr.com