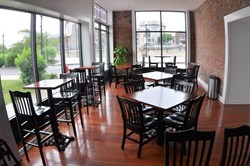 Lockport, NY (PRWEB) January 15, 2014
Leading restaurant furniture manufacturer and distributor Restaurant Furniture.net recently helped Lake Effect Artisan Ice Cream to a successful grand opening with commercial wood chairs and bar stools that are sure to make help make it a success.
Lake Effect is an artisan ice cream company, owned and operated by Jason Wulf and Erik Bernardi that specializes in unique, high-quality, handcrafted flavors. It is owned and operated by Lockport, NY natives Jason Wulf and Erik Bernardi. Jason is an art teacher at Lockport High School and Erik teaches science there as well. Lake Effect has an ice cream parlor on Lockport and distributes their ice cream to shops throughout western New York.
They use local, homegrown ingredients in their ice cream and they make every effort to support the local economy. They are a Pride of New York product. Their ice cream is classified as super premium because it contains 14% - 15% butterfat and less air. Less air means more ice cream. Each micro-batch is produced in small quantities (six quarts) and hand-packed for quality assurance and freshness. Many of their flavors are gluten-free, kosher, and vegetarian friendly. They are always creating new flavors.
Durable, comfortable seating was very important for the owners of Lake Effect, so they opted to go with Restaurant Furniture.net's Schoolhouse Wood Chair and matching Bar Stool. The Schoolhouse Wood Chairs sell for $61 and the bar stools sell for $77. This American classic has been utilized by Restaurant Furniture.net's customers in a number of different settings. Its comfort and elegant styling have made it a favorite for casual indoor dining, bars, bistros and shops. Like the other wood chairs and bar stools and chairs Restaurant Furniture.net carries, it comes in 5 standard finishes or a finish can be custom made for an additional cost. Customers have the option of choosing a saddle-shaped wood seat or an American made padded seat in vinyl or fabric available in a variety of colors. A custom made seat can also be made for an additional cost.
The Schoolhouse Bar Stools and Chairs are proudly made in the USA, as are many of its other wood chairs, bar stools and tables. "Buying American made furniture to help the economy was important to the owners," said David M., Restaurant Furniture.net salesperson. Restaurant Furniture.net is renowned for its high quality commercial seating, which is all subject to rigorous testing to meet the high standards of BIFMA (Business Institutional Manufacturers Association) and manufactures its own furniture.
Browse Restaurant Furniture.net's full selection of commercial grade chairs, bar stools, table tops, table bases, booths and patio furniture at http://www.restaurantfurniture.net or talk to a customer service representative at (888) 409-1115.
Lake Effect Artisan Ice Cream is located at79 Canal St., in Lockport, NY. They can be contacted at (716) 201-1643.