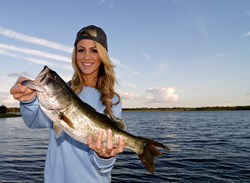 People can always tell the real thing from a fake. Own what you do.
Yankton, South Dakota (PRWEB) January 16, 2014
While Thomas has only modeled for the past few years, the avid outdoor sports enthusiast tells ProPatterns, "I started fishing with my grandfather and brother when I was about 6 years old. My grandpa had a boat he took to Costa Rica for Sailfish, and though I was too little to actually reel one in, the passion for fishing definitely started there."
The Florida native goes onto explain, "I grew up fishing off the banks of local ponds or in a tiny Jon Boat my mom used to keep at her house where she lived on a lake. From there, I've had the opportunity to fish for nearly every species in Florida...with the exception of Tarpon." She adds, "That's on my bucket list for sure."
While not spending her time on the fishing circuit, Thomas has landed a number of endorsement deals with several major outdoor sponsors. She tells ProPatterns that a highlight of her career has been appearing on the cover of Gaff Magazine. "That trip was awesome," she recounts, "and the whole experience was amazing." Thomas has also modeled for "ICAST, Florida Sportsman Calendar, as well as the Bikini Bowfishing Calendar and DVD."
Of her experiences modeling, Thomas tells ProPatterns, "I've truly enjoyed every moment of everything…as long as I'm on the water, I'm having the time of my life."
While much of her portfolio has involved modeling for print media, Thomas explains, "as of now I have a lot of photos showcasing my catches...however in 2014, I am focusing more on video-based content." Thomas's move toward the video market comes as no surprise when she explains her ultimate goal: "I want to fish Bassmasters someday."
With that goal in mind, ProPatterns asked the Florida native if she has any recommendations for sports enthusiasts traveling to Florida. "My favorite place to bass fish is the Harris Chain in Lake County, Florida," she tells ProPatterns. (The Harris Chain of Lakes has been featured on three episodes of Season 1 of Exposed.)
Like many professional anglers, Brooke Thomas, has not limited herself to bass fishing. She tells ProPatterns, "Bowfishing is also a rush for me. I think more people should get into it, as well as gator hunting…yeah, that's another thing I'm really into at the moment."
Brooke Thomas tells amateurs looking to get involved in the sport of bass fishing, "Just be you. Fish wherever you can and be proud of your catches. You will always go far just being yourself…people can always tell the real thing from a fake. Own what you do."
About ProPatterns, Inc. and Exposed:
ProPatterns, Inc. is a leader of angling education offering a variety of fishing tips and membership services online including competitions to win exclusive prizes.
Information is gathered from various sources and disseminated with members in a variety of ways. The Exposed video series, for example, gains all of its integrity from an alignment with the biggest names in the bass fishing industry including professionals who fish with BASS, FLW, and PAA. Cooperation from the anglers and their willingness to share is the catalyst for the growth of this series.
Season 1 of Exposed features 22 professional videos in a 9 disc collection DVD set, it can be ordered at the ProPatterns online store. The set includes over 20 hours of video, and is also available in a pay per view format at http://www.propatterns.com.
Season 2 of Exposed, also available on DVD, features 24 pros and over 16 hours of footage on an eight disc collection. Pay per view options for Season 2 are available online at http://www.propatterns.com as well.
Finally, the much anticipated Season 3 is now available online, and includes 24 anglers on new lakes with new enhanced editing. Free for Elite Members and available in pay per view for Social Members exclusively at http://www.propatterns.com.
The company is based in Yankton, South Dakota, home of CEO and President Chad Ekroth. Ekroth's background includes a computer science degree and business experience involving several successful startups. When not tending to business, Ekroth spends his time tournament fishing and engaging in other outdoor related activities which help educate and protect the future of angling and hunting.
Visit http://www.ProPatterns.com today to receive all of the latest information about the Exposed videos series and to learn more about all of the member services available.