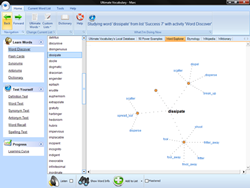 Building vocabulary is a life-enriching process, because the more a person reads the more colorful and accurate their self-expression becomes.
New York City, NY (PRWEB) January 16, 2014
Chad Manis has dedicated an entire website to tools and resources busy teachers around the world can use to make the time spent in their classrooms an enriching experience for their students. The basic premise that made this website a reality is that teachers need to support and motivate one another so as to provide high quality learning stimuli for their students. In his recent interview with eReflect's Ultimate Vocabulary™ blog editor, Chad Manis noted that learning is a never-ending process, for teachers as well as students. He emphasizes the importance of vocabulary improvement as a central skill that helps determine how sophisticated and empathetic a student can become. Learning new vocabulary offers new concepts for thinking and speaking, helping students expand their immediate understanding of the world. Learning new vocabulary results in more benefits than those generally predicted by standard curricula. Building vocabulary is a life-enriching process, because the more a person reads the more colorful and accurate their self-expression becomes. Chad Manis notes that the richer and deeper a person's vocabulary is, the more empathetic of others they become.
The secret to becoming a sophisticated reader as an adult is to motivate children to nurture a love for reading. This can be achieved by showing students the immediate and long-term benefits that reading provides. Chad Manis has come up with an activity that drives home this point; he shows student how pervasive reading is in everyday life. Reading and language in general, are unavoidable; people come across language daily, from the cereal cardboard to the EXIT sign above the building doors. Acknowledging language's ubiquity brings students one step closer to nurturing a love for reading with all the benefits this entails, from vocabulary enrichment to empathy development. eReflect notes that if society wants sophisticated, avid readers, then teachers and parents need to show young learners how reading opens up a new world of possibilities.
For more information on how you can benefit from Ultimate Vocabulary, please visit its official website, http://www.ultimatevocabulary.com.
About Ultimate Vocabulary™
Ultimate Vocabulary provides a proven and powerful platform, built to improve anyone's vocabulary.
The interactive self-improvement system provides more learning tools than any other program on the market, as well as more information on words.
The Ultimate Vocabulary software provides each and every user with a personal computer tutor. Providing a step-by-step guide to learning a powerful vocabulary, Ultimate Vocabulary is the learning tool everyone can benefit from.
Of course, the software is also backed by eReflect's iron-clad money back guarantee.