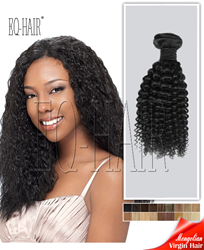 (PRWEB) January 21, 2014
Mongolian virgin hair extensions helps ladies to showcase their personality easily. EQhair.net has recently released its curl Mongolian virgin hair extensions to expand its market share.
"All these new products have never been chemically processed." The CEO of the company says, "Those who want to buy nice virgin hair extensions should visit our website as soon as possible."
It's worth mentioning that customers can get an extra discount of 20% off when they follow EQhair.net on Twitter or like it on Facebook, Google+ or LinkedIn. The company wants to expand its international effluence through SNS. The potential customers can try their services risk-free with the money-back policy.
"We look forward to hearing the success stories of our customers, and we encourage more young women to showcase their personality by sending emails with photos to duke(at)eqhair(dot)net. We will print the photos in pamphlets, brochures, booklets, posters and more. These publications will be sent back to the customers as a gift." A senior designer of the company states.
EQhair.net is a leading hair extension manufacturer and supplier. The company is famous for its high quality hair extensions at wholesale prices. At EQhair.net, trendy hair extensions are no longer synonymous with luxury, but the grade and exclusive cultural connotation.
About EQhair
EQhair is a highly experienced and well known hair extension wholesaler and retailer. With over 15 years of experience in the industry, EQhair understands the need for excellent hair products at reasonable rates. The company is devoted to providing high quality hair extensions for the ladies worldwide, and it welcomes any request and review from customers worldwide. More details at http://www.eqhair.net/WEFTS/100-Mongolian-virgin-hair.html/Mongolian-virgin-hair-kinky-curl-top-quality.html