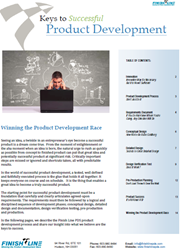 For every 100 innovative ideas, one is successfully brought to market. The scarcity is not in innovation, but in execution.
Hudson, NH (PRWEB) January 16, 2014
Finish Line PDS accelerates product development with a world-class product engineering team -- all the people, technology, software, process and procedure to convert concept into reality and get to market faster and for less. In this white paper, Finish Line PDS shares insight into what creates success and what does not.
The Successful Product Development white paper discusses nine key topics:

Innovation -- Innovation May Be Necessary,But It Is Never Sufficient
Product Development Process -- Don't Just Do It
Requirements Document -- If You Do Not Know Where You're Going, Any Direction Will Do
Conceptual Design -- How Not to Be Rube Goldberg
Detailed Design -- Secrets to Great Detailed Design
Design Verification Test -- Does It Work
Pre-Production Planning -- Don't Just Throw It Over the Wall
Product Success -- It's All About ROI
Winning the Product Development Race
Is successful product development all about technology, or are there other factors involved? What kind of cultures promote innovation, and which ones discourage innovation? Why does it seem that some product development projects never end? Is there really a way to manage the product development processes, or should we "not worry about things we cannot control?"
These and many more questions are answered by the Finish Lind PDS white paper "Successful Product Development." After more than 1,000 project and 200 customers, the Finish Line team has learned a thing or two about what creates success and what does not. Whether you are an investor in a technology start-up, or an engineer working to get the product "done" this paper will give you unique and powerful insight on how to work smarter and create better product.
To download the "Keys to Successful Product Development" white paper, go to http://www.finishlinepds.com/white-papers.html.
©2014 Finish Line PDS. All rights reserved. Information is subject to change without notice. Finish Line PDS assumes no liability for errors that may appear in this document. For additional information, visit http://www.finishlinepds.com or contact Finish Line PDS at +1. 603.880.8484.
Finish Line PDS is headquartered in Hudson, NH (USA).
Media Contact:
Finish Line PDS, LLC
94 River Rd., STE 101
Hudson, NH 03051
Phone +1.603.880.8484
info(at)finishlinepds(dot)com