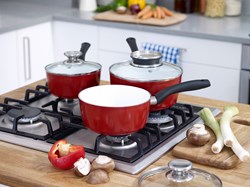 London (PRWEB UK) 20 January 2014
Fancy a scrambled egg but don't like the washing up? That's no problem with the new Ceracraft Saucepans from JML. With a ceramic coated cooking surface it means that they are incredibly non-stick. Having trouble cleaning up left-over porridge, burnt milk or too sticky rice? Well, not anymore. Even the stickiest sauces and gravy disappear from the saucepans after a quick rinse.
What's more, they really stand out because they come in very bright colours including a cranberry red and a dark grey that give them a designer edge and means we'd all like to have them on show in our kitchens.
The range also includes an Aroma Lid to help flavour your cooking. It has a slow release valve that means you can pour wine, stock or oil into the dish very slowly, ensuring your food keeps moist and flavoursome.
Cearacraft Saucepans are ergonomic, have an easy grip handle and a lightweight feel. With an aluminum base it means they can be used on all hob types including induction cookers.
The Ceracraft range is supremely versatile and perfect for making tasty meals for any occasion, whether you're preparing a quick supper after work, a leisurely weekend lunch or something special for family and friends.
Notes to Editors:
Ceracraft Saucepans retail at http://www.JMLdirect.com and all good JML stockists.
Ceracraft Saucepans 20cm diameter: £29.99
Ceracraft Saucepan 20cm Aroma Lid: £7.99
Ceracraft Saucepans 3 Piece Set with Lids: £79.99
Product Features:

Incredibly non-stick ceramic coating
Extra durable aluminum body
Stay-cool Bakelite handle
Superior heat distribution and retention
Cook without added fat or oil
PTFE and PFOA free
Suitable for all heat sources, including induction
Easy to clean
Scratch resistant
Oven safe up to 150°C
CONTACT INFORMATION: Jonathan O'Connor at press(at)jmlgroup(dot)co.uk or 020 7691 3876.
About JML:
Founded in 1986 by John Mills, JML was once a small family company that developed through live demonstrations of innovative products at consumer exhibitions. Over the last two decades JML has grown into a household name and is one of the nation's favourite brands. It is widely recognised as the number one as seen on TV company in the UK. Their products range from the UK's best-selling Belvia Bra to the Fast Fit Ironing Board Cover and Ceracraft Pans. You can find JML's diverse range of products on virtually every high street and in most of the UK and Ireland's biggest retailers. JML also has two TV shopping channels, The Store and JML Direct TV and operates a website at http://www.JMLdirect.com.