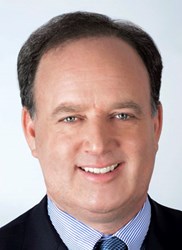 New York, NY (PRWEB) January 16, 2014
George Pyne, President of IMG Worldwide Sports & Entertainment, will deliver the closing keynote at the inaugural Cynopsis Sports Breakfast of Champions networking event.
A ground-breaking sports industry luminary, Pyne will share the keys to leadership in the world of sports, how it impacts the landscape of business and how he is positioning IMG to take advantage of the trends and opportunities for brands as we head into 2014 and beyond. Under Mr. Pyne's leadership, IMG entered the collegiate business in May of 2007 with the acquisition of the Collegiate Licensing Company and subsequent purchases of Host Communication and ISP. Prior to IMG, Pyne served as Chief Operating Officer of NASCAR and was the second non-family member in 50 years to join its Board of Directors.
The event will also include a keynote from Blaise D'Sylva, Vice President of Media, Sports & Entertainment for Anheuser-Busch on the company's Super Bowl activation while Stephen Master, SVP, Global Head of Sports Practice for The Nielsen Company, delivers his company's "State of the Media: 2013 Year in Sports" report.
In addition to these speakers, Bonnie Bernstein, Campus Insider's Vice President of Content and Brand Development and On-Air Talent will moderate the morning's panel, "The New Secrets to Maximum Visibility for Athletes & Brands." Panelists will include NFL Players Inc. President Keith Gordon, Golf Channel's Frank Nobilo, ESPN Men's College Basketball Analyst and Commentator Jay Williams, as well as athletes such as Washington Redskins' Wide Receiver Pierre Garçon, and New York Giants' Linebacker Keith Rivers. Panelists will discuss how athletes are training for off-the-field endeavors and increasing opportunities in business world, as well as maximizing their personal brands.
The breakfast event will be held at the New York Athletic Club in New York City and will feature content-rich keynotes, a Nielsen report and panel, plus opportunities for networking. (For details, go to http://www.cynopsis.com/events/sports-breakfast-of-champions)
For questions regarding attending the event, contact Peter Romas at pete(at)cynopsis(dot)com or go to http://www.cynopsis.com/events/sports-breakfast-of-champions. For sponsorship information, contact Vice President of Sales and Marketing, Mike Farina at mike(at)cynopsis(dot)com.
About Cynopsis Media Cynopsis Media is a division of Access Intelligence LLC. The Cynopsis Media family of products includes Cynopsis, Cynopsis: Digital and Cynopsis: Sports daily e-publications, weekly Cynopsis: Kids and Cynopsis: Classified Advantage e-publications, Special eReports, Event/Summits and a strong database of Classifieds and more. Visit cynopsis.com.