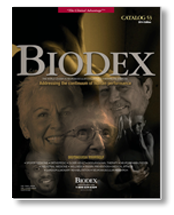 (PRWEB) January 16, 2014
Biodex physical medicine devices are engineered with advanced technology for neuromuscular evaluation and therapeutic exercise. Used to improve balance, gait, mobility, strength and range of motion in patients suffering from neurological and general balance & mobility impairments, orthopedic and sports-related injuries, Biodex is used worldwide, in 85 countries, supported by evidence-based clinical protocols and scientific research with programs for fall risk screening and conditioning and balance assessment for the management of concussion.
To read about all the new products and enhancements, along with our entire line of Physical Medicine & Rehabilitation Devices, download the catalog today. Now offered in a convenient online format - the digital version of the catalog provides immediate access and allows you to file or share selected electronic product pages with peers, supervisors or to accompany an internal purchase request.
If you prefer to receive a hard copy of the catalog we will be happy to mail one to you. Please go to http://www.biodex.com/rehab-catalog-print to submit an online request.
To learn more about Biodex Physical Medicine & Rehabilitation Devices, contact Biodex directly at 1-800-224-6339 (Int'l 631-924-9000), visit our website, http://www.biodex.com/rehab, or email us at info(at)biodex(dot)com.
About Biodex Medical Systems, Inc.
Biodex Medical Systems, Inc. manufactures and distributes medical devices and related replacement parts for physical medicine, nuclear medicine and molecular imaging, and medical imaging applications. It also provides concussion management as well as fall risk screening and conditioning programs. The Biodex commitment to innovative excellence spans more than 60 years. Our customer-driven support is why leading medical facilities around the globe call Biodex first.