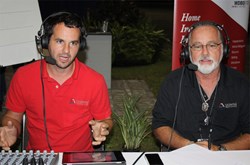 More insurance companies have added to their policy language that they will not insure a property that has a roof that is 20 years or older.
Orlando, FL (PRWEB) January 17, 2014
Jared Mellick, President of Universal Roof & Contracting in Central Florida, hosts a weekly radio show called "In the House with Ken and Jared," inviting homeowners to call in with their roofing and home improvement questions. Recently, according to Mellick, there has been a trend in the increased number of homeowners receiving a notification from their insurance company, saying that because the roof is old, they are dropping their policy. The insurance companies insist on some sort of inspection in order to keep the insurance policy intact.
As an experienced roofing contractor for over twenty years, Mellick is familiar with insurance companies and their desire to minimize losses. Ever-changing policies keep Mellick and his roofing team on their toes, and this latest trend is no different. He has discovered that more insurance companies have added to their policy language that they will not insure a property that has a roof that is 20 years or older. Because of this directive, notices are typically being sent to homeowners when the roof is approaching the 20 year mark. Other homeowners with much younger roofs are receiving the notices as well, simply because the insurance companies don't know how old the roof is, and they want proof to continue the policy.
Regardless of having a new or old roof, an inspection is in order. Mellick recommends a roof condition inspection. For that type of inspection, a written report is generated for the insurance company. Most roof inspectors will charge a fee because of the report. One of three results is typically going to come out of that inspection:
1) The inspection reveals the roof is perfectly fine, even if it is over 20 years old. It has a minimum of three to five years of useful life left. The roof condition inspection report is sent to the insurance company, and having met the requirements, typically they will then have to keep the homeowner as an insured. That's the most common outcome when Mellick performs these inspections.
2) The inspection reveals the roof is worn out. It has exceeded its useful life and the homeowner will have to replace the roof in order to keep the homeowner's insurance company. If the roof doesn't have three to five years of useful life, then it will have to be replaced.
3) The inspection reveals that there is hidden damage that could possibly be covered by home owners insurance. The homeowner does need to replace the roof; not necessarily from old age, but because it has storm damage, where there are missing shingles, or trees/wind damaged shingles or there is hail damage that has occurred at some point. If the homeowner had that insurance company during the time that that storm happened then there is a good chance that that insurance company would have to pay to completely replace the roof.
Mellick goes further to say that even if a homeowner hasn't received a letter, this is the time of the year to go ahead and get the roof inspected. In Central Florida, during January and February, business is a little bit slower; the weather is cold and mild. Contact an experienced roofing contractor for an inspection. Don't go into the rainy season months from now, with an uninspected roof, not knowing what kind of condition it is in. Perhaps everything is fine, or just some minor repairs are needed. However, if a new roof is needed, it could be from storm damage, and an experienced roofing contractor is going to know how to evaluate it properly and work with the insurance company.
About Universal Contracting:
Jared Mellick and his father Ken Mellick are the owners of Central Florida's premier construction company Universal Contracting, a family-run business which has been serving homeowners and business owners in the Greater Orlando area for more than 20 years. Together they host a local radio home improvement and construction talk show called "In the House with Ken & Jared."