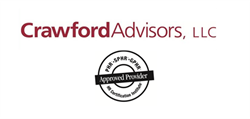 HR professionals and other interested executives are invited to join our expert panel for this free HRCI approved webinar.
Hunt Valley, Maryland (PRWEB) January 20, 2014
Join this industry expert panel including David Mohl, Senior Counsel at Cigna, Tim Suchecki, National Practice Leader at Reliance Standard, Senior Counsel Angela Ripper at Unum and Attorney Doug Desmarais at Smith & Downey as they review the changes and impact of recent FMLA and ADA legislation in this free HRCI approved webinar. Understanding the mechanics of this legislation is crucial for HR departments to avoid undue discrimination and financial risk. The panel discussion will be moderated by Crawford Advisors, LLC http://www.crawfordadvisors.com attorney Patrick Haynes. Topics include:

FMLA leave, leave segments and leave calculations
ADA definitions, nuances and reasonable accommodation
ADA tax incentives
Defining eligibility under FMLA
Differentiating FMLA and ADA
Common mistakes when administering FMLA claims
Thursday, Jan 23, 2014 12:00 PM - 1:00 PM EST Click here to register
Space is limited, register early. This webinar is open to all HR professionals - but not open to other agents or brokers.
Crawford Advisors is a full-service benefits consulting and brokerage firm. Crawford has invested heavily in technology and an an expert team to bring sophisticated solutions and comprehensive services to help organizations manage and deliver the best value for health and welfare benefits. Crawford Advisors provides:
Benefits Consulting and Brokerage
Benefits Administration
Flexible Spending Accounts
COBRA
Compliance
Employee Communications
Employee Health Improvement
Crawford Advisors, LLC, understands that employee health benefits are often large expenses with complex compliance requirements. Crawford Advisors is committed to providing the brightest consulting talent to help manage cost, improve the health and productivity of employees, and add profits to their clients' bottom line.