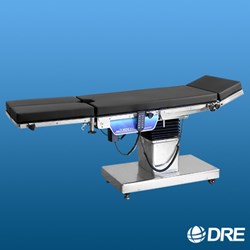 Louisville, KY (PRWEB) January 16, 2014
A recent report from the Office of the Actuary at the Centers for Medicare and Medicaid Services states that the growth rate for medical spending slowed in 2012. The analysis shows that the amount of money the U.S. government puts into healthcare grew less rapidly, and the economic sector devoted to health diminished slightly.
In short, the money funding today's healthcare is beginning to fall behind demands. Practices are expected to continue as before with large patient loads with less resources available to them. Budgets are tight and expected to become even more constricting.
One of the ways that clinicians can cope with budget deficits is through the strategic selection of medical equipment. Every piece of capital equipment has to be versatile, durable, and cost-efficient.
The DRE Torino XL Operating Room Table is a prime example of what physicians need to keep up with industry trends — it is adaptable, well-made and good for any clinician's bottom line.
The Torino is outfitted with customizable moving parts that allow the operating table to shift into multiple configurations. Physicians can easily adjust the head, back and seat plates. A built-in kidney bridge, lateral tilt function and Trendelenburg capabilities make the Torino well-suited to a variety of procedures.
All of the table's movements are quiet and smooth, thanks to the Torino's electric hydraulic lift system and manual controls. The Torino is constructed out of stainless steel for stability and longevity.
An array of accessories can also increase the Torino's versatility. Standard add-ons include an anesthesia screen, supports for shoulders, body arms and legs, and a foot plate.
The Torino's adaptability and value has already been proven in the operating suite. Dr. Sam Sukkar, of Sukkar Aesthetic Plastic Surgery & Medical Spa, purchased a Torino for his practice.
"The versatility of this bed with regards to positioning was especially important in my selection of it," Sukkar said. "It is very quiet, powerful and flexible in a variety of patient positions, making the surgery easier and less strenuous on both surgeon and patient."
Versatility aside, one of the most attractive features of the Torino is the DRE-standard low price tag. This table compares with offerings from other industry leaders in every aspect — except cost.
About DRE, Inc.
Founded in 1984, DRE, Inc. is a premier medical and surgical equipment supplier that provides a combination of new and professionally refurbished or used medical equipment to industry professionals around the globe. DRE offers value to doctors by providing the features and reliability they need while still fitting within their budget. DRE, Inc. is headquartered in Louisville, Kentucky.