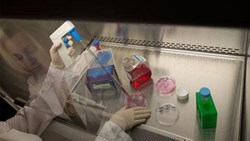 Laboratory provides industry collaborators with a local academic partner for research and workforce training.
Hoboken, NJ (PRWEB) January 15, 2014
The Center for Healthcare Innovation at Stevens Institute of Technology announces the opening of the Biotechnology and Drug-Discovery Laboratory (http://www.stevens.edu/chi/biotech). The lab will open January 2014 as a new biotechnology and drug discovery enterprise that will partner with other Stevens faculty, students and external academic and industry collaborators.
Established in part with a generous donation of equipment and supplies from Hoffmann-La Roche Inc. and support from the New Jersey Department of Labor, seven former Roche personnel with expertise in this area recently joined Stevens as faculty and researchers in this new initiative. Laboratory staff also includes three new professors who have over 90 years of combined R&D experience in pharmaceutical and biotechnology corporate laboratories.
According to Dr. Peter Tolias, Professor and Director of the Center for Healthcare Innovation, "The Stevens Institute of Technology is grateful to Roche for their generous support in helping to establish this new enterprise that gives our students an opportunity to gain practical experience in biotechnology and drug development."
Further, states Tolias, "Serving as a center for research in the areas of preclinical gene cloning and purification of therapeutic proteins, assay development and robotic drug screening, the laboratory also provides industry collaborators with a local academic partner for research and workforce training."
"The new Stevens laboratory also furthers efforts to nurture entrepreneurship, contributes to maintaining New Jersey as a pharmaceutical and biotechnology hub, and positions Stevens as a premier research university and industry partner for biotechnology and drug discovery," says Tolias.
About the Stevens Center for Healthcare Innovation
The Stevens Center for Healthcare Innovation seeks solutions to improve medical technology and healthcare delivery through education and research, connecting the fields of medicine, engineering and science by sponsoring research, building partnerships, commercializing intellectual property and creating curricula to strengthen skill gaps in the workforce. Over 50-university faculty from diverse academic disciplines are affiliated with the Center for Healthcare Innovation, tackling unmet needs in medical technology and major issues in healthcare delivery with their students. Current areas of research include tissue engineering of cancer biopsies for drug assessment and therapy selection, biomaterials that promote cell growth and control infection in implanted prosthetic and medical devices, drug discovery and development initiatives, mobile healthcare and telemedicine applications, and data analytics and modeling of healthcare delivery systems. Additional information can be obtained at the Center for Healthcare Innovation website at http://www.stevens.edu/chi or by contacting the center's director at ptolias(at)stevens(dot)edu.
About Stevens Institute of Technology
Stevens Institute of Technology, The Innovation University®, is a premier, private research university situated in Hoboken, N.J. overlooking the Manhattan skyline. Founded in 1870, technological innovation has been the hallmark and legacy of Stevens' education and research programs for more than 140 years. Within the university's three schools and one college, more than 6,100 undergraduate and graduate students collaborate with more than 350 faculty members in an interdisciplinary, student-centric, entrepreneurial environment to advance the frontiers of science and leverage technology to confront global challenges. Stevens is home to three national research centers of excellence, as well as joint research programs focused on critical industries such as healthcare, energy, finance, defense and STEM education and coastal sustainability. The university is consistently ranked among the nation's elite for return on investment for students, career services programs and mid-career salaries of alumni. Stevens is in the midst of a 10-year strategic plan, The Future. Ours to Create., designed to further extend the Stevens legacy to create a forward-looking and far-reaching institution with global impact.