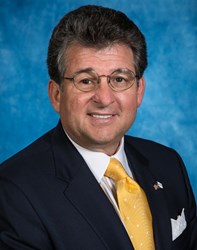 Lou has earned a lot of respect for his leadership in the aviation industry and business community.-- Embry-Riddle President Dr. John P. Johnson
(PRWEB) January 15, 2014
Aviation industry leader and former Embry-Riddle trustee Louis C. Seno joined the university's senior management team Jan. 6 as Vice President for Corporate Relations and Government Affairs. In this role he will connect Embry-Riddle with the general aviation and aerospace industries as well as maintain the university's interests on Capitol Hill.
Previously president and CEO of Jet Support Services Inc. (JSSI), Seno remains chairman emeritus and special advisor to the company's Board of Directors. Prior to becoming a founding shareholder of JSSI, Seno held top management positions with the business aircraft units of Boeing Capital Corp. and G.E. Capital Solutions.
Seno has helped guide Embry-Riddle since 2001, when he joined the President's Advisory Board. In 2009 he advanced to the university's Board of Trustees, where he was chair of the Development Committee and a member of the Student Life and Flight Safety & Education committees until his recent hiring as vice president.
"Lou has earned a lot of respect for his leadership in the aviation industry and business community," said Embry-Riddle President Dr. John P. Johnson. "As a former trustee, his proven commitment to the success of everyone at Embry-Riddle makes him the perfect choice to stand at the forefront of Embry-Riddle's corporate relations and government affairs."
In addition to his new duties at Embry-Riddle, Seno will continue in various roles beneficial to general aviation – he is a member of the Board of Directors of both Duncan Aviation and the General Aviation Manufacturers Association and is a member of the Executive Committee of the National Aircraft Resale Association. In the past he served on the Board of Governors of the Flight Safety Foundation, where he represented the business aviation community.
Seno is a 6,000-hour pilot with an Airline Transport Pilot certificate and a Cessna Citation Jet type rating who has owned several single-engine and twin-engine piston aircraft, including the one he flies today, a Beechcraft Bonanza Model F33A.
About Embry-Riddle
Embry-Riddle Aeronautical University, the world's largest, fully accredited university specializing in aviation and aerospace, is a nonprofit, independent institution offering more than 40 baccalaureate, master's and Ph.D. degree programs in its colleges of Arts and Sciences, Aviation, Business and Engineering. Embry-Riddle educates students at residential campuses in Daytona Beach, Fla., and Prescott, Ariz., and through the Worldwide Campus with more than 150 locations in the United States, Europe, Asia and the Middle East. The university is a major research center, seeking solutions to real-world problems in partnership with the aerospace industry, other universities and government agencies. For more information, visit http://www.embryriddle.edu, follow us on Twitter (@EmbryRiddle) and http://www.facebook.com/EmbryRiddleUniversity, and find expert videos at YouTube.com/EmbryRiddleUniv.