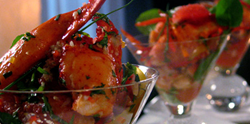 (PRWEB) January 16, 2014
It won't be long before Valentine's Day is here, and it's time to start planning a meal with that special someone. Nothing is more romantic than a candlelit dinner for two and fewer things are more elegant when Maine lobster is in the mix. To help with dinner ideas, the team at GetMaineLobster.com has compiled a list of its top ten best recipes for Valentine's Day, including an updated recipe for Down East Lobster Scampi, a wildly romantic fondue, and entrees that are guaranteed to charge all of the senses.
1. Dreamy Lobster Chunk Cheese Fondue: For those who can remember the 60's fondue rage, this recipe will recapture all of the fun memories of sharing good food, great stories and a lot of laughter. Be sure to use dry white wine rather than sweet wine in this recipe, as the acidity from the dry wine is needed to melt the cheeses to a smooth and creamy texture.
2. Down East Lobster Scampi: Get Maine Lobster's classic scampi recipe has all of the flavors one enjoys in the dish with the added bonus of Maine lobster to seal the kiss.
3. Get Maine Lobster Citrusy Salad with Wild Arugula: Cool, light and colorful, this crisp, fresh Maine lobster salad makes a perfect entree for the healthy-minded.
4. Grilled Lobster Tails with Lemon Herb Butter: The pairing of Maine lobster tails with the lemon butter bares all of the lobster flavor and texture, leaving nothing to the imagination.
5. Baked Stuffed Lobsters: This is a very simple and straightforward classic version of baked stuffed Maine lobster.
6. Lobster Crostini Melts: Garlic, sherry, tarragon and a hint of balsamic combined with Maine lobster say irresistible on their own.
7. Fresh Maine Lobster over Angel Hair Pasta: Flavorful and light, this deliciously simple meal leaves plenty of room for dessert.
8. Get Maine Lobster Shooters: If you're ready to get serious about consuming lobster, this quick, intense recipe will step things up in a big way.
9. Lemony Crab Meat Stuffed Lobster: The best of Maine's best can be enjoyed with the pairing of rich Maine lobster tails and fresh Maine crab meat.
10. Lover's Lobster Dip: This is a play on Lobster Newburg that's so good you will only share it with the ones closest to you! The creamy seafood base cut with sherry and finished with buttery lobster pairs perfectly with crunchy herb toast points.
These recipes are easy to prepare and delicious to eat. The only difficult part is figuring out which ones to enjoy on Valentine's Day!
To learn more about GetMaineLobster.com, browse its wide range of seafood offerings, and to access lobster recipes or view weekly seafood delivery specials, visit GetMaineLobster.com or call (866) 562-4817. For even more lobster news and recipes go to JustAddLobster.com.
About GetMaineLobster.com
GetMaineLobster.com, a division of Black Point Seafood and Black Point Gourmet, hand-selects the finest Maine lobster, seafood and beef products for convenient distribution throughout the United States. Their passion is to make fresh, quality seafood readily available to customers across the country, which is why they buy from only the most trusted, well-established suppliers to ensure that they receive the finest products available.
GetMaineLobster.com was selected out of the more than four million small American businesses served by Chase bank to represent its new Platinum Business Checking product for its 2013 national advertising campaign.