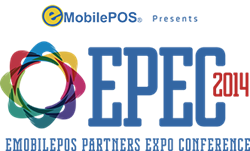 We are very proud to have VSR, a leading resource for VARs and channel partners on board as sponsor of the EPEC conference.
Fort Lauderdale, FL (PRWEB) January 15, 2014
e-Nabler Corp., creators of the award-winning mobile POS software eMobilePOS announced today Vertical Systems Reseller as the exclusive media partner for the eMobilePOS Partner Expo Conference "EPEC 2014" in Puerto Rico, Jan 30-Feb 1. As a media sponsor, VSR will share valuable industry insight as a conference moderator and promote the event through its print and online publications.
EPEC will be the industry's largest integrated mobile POS focused event, gathering leading VARs, systems integrators and payments industry professionals under one roof. Attendees will benefit from hands-on training on the eMobilePOS platform, learn from eMobilePOS customers, and experience "real" user scenarios at the solution pavilion. In addition, attendees will meet with the eMobilePOS eco system of hardware, payment and software partners in the expo area and benefit from special post-conference incentives from eMobilePOS and its partners.
"We are very proud to have VSR, a leading resource for VARs and channel partners on board as sponsor of the EPEC conference," says Joel Vázquez, president of e-Nabler. "The partnership validates the large interest in the mobile POS market, and it allows us to tap into their industry knowledge as well as promote EPEC through VSR's powerful marketing channels."
"In a recent VSR POS study, 50% of resellers said that Mobile POS will soon take the lead role over fixed POS installations," says Albert Guffanti, Publisher, VSR/Edgell Communications. "EPEC brings all the technologies together and this is a unique opportunity for VARs to learn about mobile POS and get a head start in 2014."
For more information on attending EPEC 2014 in Puerto Rico, Jan 30-Feb 1, visit http://www.emobilepos.com/epec2014.
About e-Nabler Corp.
Founded in 2001, e-Nabler, the company behind the award-winning eMobilePOS software, is one of the pioneers in mobile POS solutions and cloud-based software-as-a-service. eMobilePOS was the first full-featured POS app on iTunes and has to date processed more than 3 billion transactions. The company was recognized with the "Best New Mobile App" by AT&T during CTIA in 2008 and was awarded RSPA's Innovative Solution Award at RetailNOW 2011. eMobilePOS is available through the Apple App Store, and a version for the Android is also available. For more information, please visit http://www.eMobilePOS.com.
About VSR
Vertical Systems Reseller (VSR) is a multi-media Channel publication dedicated to helping growth-oriented Resellers succeed in today's rapidly changing technology landscape. Through the timely and objective coverage of business and technology trends, VSR prides itself on helping Resellers to become trusted advisors to their end user customers. Visit our website, http://www.verticalsystemsreseller.com, to access the collective knowledge of VSR's influential Channel community.