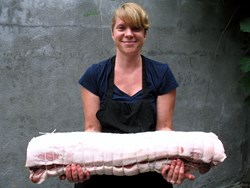 Cambridge, MA (PRWEB) January 16, 2014
Formaggio Kitchen is proud to announce that Julie Biggs, house charcutière at the specialty food retailer's Cambridge, Mass. shop, has received two Good Food Awards for her Pâté de Campagne en Gelée and Smoked Beef Tongue. One of 130 winners from across the U.S., receiving two awards is a rare accomplishment and Biggs was honored at the fourth annual awards ceremony earlier this evening at the Palace of Fine Arts Theater in San Francisco, Calif. The Good Food Awards celebrates the people who make food that is delicious, respectful of the environment and honors our communities and cultural traditions.
"Julie's fresh sausages, pâté and other cured meats are a specialty in our shops that have been adored by customers since she began working with us over four years ago," said Ihsan Gurdal, owner of Formaggio Kitchen. "For Julie, making charcuterie is an art form – she takes the utmost care in sourcing meat from local, family farms throughout New England to create a quality finished product. We're thrilled to see her recognized on a national level."
The Good Food Awards received a record number of applicants this year totaling 1,450 entries from all 50 states. The charcuterie awards are given to producers who make their products by hand, using meat from animals that were raised without hormones and are provided with pasture and feed that is free of herbicides and pesticides. Each year, the Good Food Awards Seal is given out to categories including Pâtés & Terrines, Smoked, Dry Cured and Restaurant.
The Formaggio Kitchen Smoked Beef Tongue is made using beef sourced from a small farm in New Hampshire that is brined for five days, simmered for a short period of time then smoked over hot coals and applewood, resulting in a tongue with more concentrated flavor and a slight smokiness. The Pâté de Campagne en Gelée is made from a combination of locally sourced meat including pork butt, pork fat, house-made bacon, pancetta and pork livers, resulting in a very flavorful pâté with a country-style texture. All of the farmers that Formaggio Kitchen works with practice sound animal husbandry, ensuring that the animals are humanely raised with a healthy diet and are never given hormones or unnecessary antibiotics.
"The Good Food Awards represent an important group of individuals in the food industry by examining not just how tasty a food item is, but that it's produced with environmental and social factors in mind," noted Biggs. "I'm honored to be selected among all the talented winners this year."
To learn more about Formaggio Kitchen, please visit http://www.formaggiokitchen.com.
###
About Formaggio Kitchen
Formaggio Kitchen is a specialty foods retailer with locations in Cambridge, MA, Boston's South End and at Essex Market in New York City. For over 30 years, Formaggio Kitchen has supported small farms and individual artisans by traveling the world to find the most authentic, unique and delicious foods from around the globe and bringing them back to their dedicated customer base. Specializing in cheese, gourmet foods lovers can find everything from wine, olive oil, cured meat and baked goods to honey, jam and spices that cannot be found anywhere else in the U.S. http://www.formaggiokitchen.com