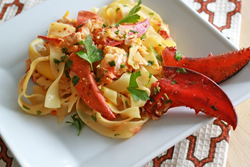 By incorporating some simple tasks into one's daily routine, Valentine's Day will be a resounding success without the stress.
(PRWEB) January 17, 2014
Getting a dinner just right for that special someone doesn't have to mean hours of prep and rushing around the town. This year, GetMaineLobster.com is offering a variety of dinner specials and helpful tips on how to prepare in advance before the event. By incorporating some simple tasks into one's daily routine, Valentine's Day will be a resounding success without the stress.
First and foremost, plan a meal that is manageable, taking into consideration work, children, schedule and cooking skills. The chefs at GetMaineLobster.com know from experience that raising the bar high doesn't have to mean making things harder than they need to be. So, plan a meal that is doable and you will be well on your way to creating an enjoyable experience.
4 Days In Advance: Know the menu, and if ordering online, plan to place the order at least eight days before the Valentine's Day dinner. If you're cooking yourself, begin to create a list of all of the ingredients.
3 Days In Advance: Continue to review the ingredients list and add to the list as needed. Buy the groceries and make sure to choose the freshest ingredients available, especially when selecting meats and seafood, such as lobster. Also, check the dining inventory, including candles, matches, linens, dinnerware, music, centerpiece options, salt and pepper shakers, a butter dish, serving ware, a corkscrew and liquor. It's also a good idea to prepare anything on the menu that can be made in advance and frozen.
2 Days In Advance: Take care of the housekeeping, making sure everything shines and is fresh, including the sheets! Cook, marinate and chop anything on the menu that can be refrigerated easily overnight, including dessert, appetizers and vegetables. Once cool, store everything in sealed containers or tightly wrapped material to lock in freshness. Set the table the night before, including candles, salt and pepper shakers, and a centerpiece. Inventory the glasses that will be used, including cocktail, water or other non-alcoholic beverage glasses, wine glasses, and coffee or tea cups. Also, refrigerate any white wine or champagne you plan to serve.
Review the recipes to be sure to allot the right amount of time to prepare most of the meal in advance before the special dinner partner arrives on the scene. Finish cooking anything you can beforehand - reheating is easy as long as you don't overcook anything. Prepare all of the appetizers, including the ones you have to cook and heat, as they will be ready to throw in the oven when it's time. If using red wine, open it one hour before serving to allow it to breathe.
Valentine's Day: At least two hours before mealtime, get fresh and pretty. There's never enough time to look your best, so start early and once you're satisfied, walk away from the mirror. A few minutes before dinner, all appetizers that require heating and cooking should be in the oven. All cold appetizers should be ready to go and in their places.
Finally, light the candles, turn on the music, pat yourself on the back and have a very romantic dinner.
To learn more about GetMaineLobster.com, browse its wide range of seafood offerings, and to access lobster recipes or view weekly seafood delivery specials, visit GetMaineLobster.com or call (866) 562-4817. For even more lobster news and recipes go to JustAddLobster.com.
About GetMaineLobster.com
GetMaineLobster.com, a division of Black Point Seafood and Black Point Gourmet, hand-selects the finest Maine lobster, seafood and beef products for convenient distribution throughout the United States. Their passion is to make fresh, quality seafood readily available to customers across the country, which is why they buy from only the most trusted, well-established suppliers to ensure that they receive the finest products available.
GetMaineLobster.com was selected out of the more than four million small American businesses served by Chase bank to represent its new Platinum Business Checking product for its 2013 national advertising campaign.