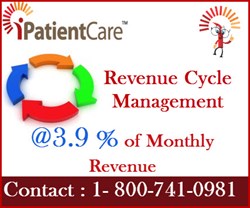 'iPatientCare is the right solution for our billing in addition to handling our claims more efficiently,' said Ramesh Reddy, MD, Decaturville ,TN.
Woodbridge, NJ, (PRWEB) January 16, 2014
iPatientCare, Inc., a pioneer in mHealth and cloud-based ambulatory EHR and integrated Practice Management solutions announced the successful adoption of Revenue Cycle Management (RCM) Services by providers. iPatientCare offers Meaningful Use Stage 2 certified EHR and integrated Billing System as part of the value added services of Revenue Cycle Management at JUST 3.9% of monthly collected revenue.
iPatientCare RCM services range from filing claims electronically all the way up to full practice management involving the posting of payments received from insurance companies, filing claims with secondary/tertiary insurances, and billing patients for any remaining balance after insurance has paid its share. iPatientCare also offers its clients the benefit of monthly practice management reports that aid providers in making critical business decisions affecting the practice.
"iPatientCare is the right solution for our billing in addition to handling our claims more efficiently," said Ramesh Reddy, MD, Decaturville , TN. He added further, "Only a few months of using iPatientCare RCM made our day–today billing issues easy. Our accounts receivable is great and there is more complete reporting. iPatientCare's integrated software has helped us to keep track of money owed by payers and patients when they come to see us at the office. The RCM team is very knowledgeable, efficient, and courteous. Their attention to detail is very good. iPatientCare RCM gives us more time to take care of other areas of the practice, including patient care."
"We are highly encouraged by the overwhelming response we have received for the Revenue Cycle Management (RCM) services. 3.9% of monthly collected revenue is much lower than the industry average. iPatientCare RCM is an end-to-end Revenue Cycle Management solution that enables healthcare providers focus on their core competencies and leave billing through collections to iPatientCare. It is a range of services where superior technology plays a focal role, and that is what precisely differentiates iPatientCare from the rest," said Udayan Mandavia, Prsesident/CEO, iPatientCare.
About iPatientCare:
iPatientCare, Inc. is a privately held medical informatics company based at Woodbridge, New Jersey. The company is known for its pioneering contribution to mHealth and Cloud based unified product suite that include Electronic Health/Medical Record and integrated Practice Management/Billing System, Patient Portal/PHR, Health Information Exchange (HIE), and mobile point-of-care solutions that serve the ambulatory, acute/sub acute, emergency and home health market segments.
iPatientCare EHR 2014 (2.0) has received 2014 Edition Ambulatory Complete EHR certification by ICSA Labs, an Office of the National Coordinator-Authorized Certification Body (ONC-ACB), in accordance with the applicable eligible professional certification criteria adopted by the Secretary of Health and Human Services (HHS).
Full certification details can be found at ONC Certified Health IT Product List.
The ONC 2014 Edition criteria support both Stage 1 and 2 Meaningful Use measures required to qualify eligible providers and hospitals for funding under the American Recovery and Reinvestment Act (ARRA).
The company has won numerous awards for its EHR technology and is recognized as an innovator in the field, being a pioneer to offer an EHR technology on a handheld device, an innovative First Responder technology to the US Army for its Theatre Medical Information System, the first to offer a Cloud based EHR product. iPatientCare is recognized as one of the best EHR and Integrated PM System for small and medium sized physicians' offices; has been awarded most number of industry Awards; and has been recognized as a preferred/MU partner by numerous Regional Extension Centers (REC), hospitals/health systems, and academies.
Visit http://www.iPatientCare.com for more information.