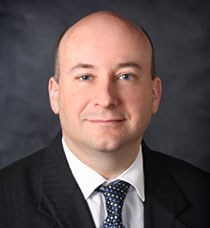 "Being an active member in the community, I especially enjoy volunteering for Child & Family Services' Center for Dispute Resolution," - Scott Bylewski
Buffalo, NY (PRWEB) February 04, 2014
Active involvement in the community is second nature for Scott A. Bylewski, Esq., who was among those honored December 13, 2013 for dedicated service by Child & Family Services' Center for Resolution and Justice (CRJ). Bylewski received recognition for 15 years of service and community contributions at the award presentation during the CRJ's holiday party.
Bylewski, Attorney Development Director at William Mattar, P.C., is a former Councilman and former Clarence Town Supervisor. He provided solid and compassionate direction for the Town of Clarence as he guided the involvement of numerous local, state, and federal agencies in response to the tragic disaster of flight 3407 in February 2009. Bylewski accepted the New York State Senate Liberty Medal, one of the highest civilian awards that a New York resident can receive, on behalf of the Town of Clarence First Responders. Other awards and honors he has earned include: 40 Under Forty, Buffalo Business First; Am-Pol Eagle Citizen of the Year Award, Am-Pol Eagle; Award of Merit, Bar Association of Erie County; Paul Harris Fellow, Rotary International; Rising Star, Cystic Fibrosis Foundation; and the Trailblazer Award, U.S. District Court, Western District of New York. In addition to these honors, he also makes presentations at a variety of continuing legal education seminars.
William Mattar, P.C. is proud to have Bylewski as part of their dedicated legal team. The firm focuses on auto injuries, and has been serving Western New York since 1990. Led by William K. Mattar, the firm is known for the their phrase, "Hurt In A Car, Call William Mattar. 444-4444." With active community involvement year-round, go to http://www.WilliamMattar.com for safety initiatives, answers to common legal questions, and informative videos.