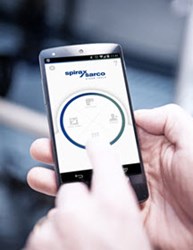 Blythewood, SC (PRWEB) January 16, 2014
Following the success of the iPhone Steam Tools app, Spirax Sarco is excited to release a new Android version to help provide customers and sales engineers access to key calculations when identifying the right steam tools for the job — all in the palm of their hand.
Simple to use, the app enables quick and easy access to Steam Tables and Saturated Steam Pipe Sizing tools helping one size a pipeline without the need for an internet connection, making it perfect for steam engineers on the go. To enhance the feature settings, both tools offer the output of this data into a range of different standardized units.
Also within the app are links to our world leading steam engineering tutorials, comprehensive product literature catalog, international website and YouTube channel.
App highlights include:

Supports multiple languages
Temperature units in °C, °F or K
Default output units Metric and Imperial
Input and Output data available in barg, a, kpag & abs and psig & a
The Spirax Sarco Tools App is available for Android and iPhone devices via the Google play and Apple stores now.
###
About Spirax Sarco, Inc.
Spirax Sarco is the world leader in steam system management. The Company provides a broad range of fluid control products, engineered packages, systems expertise and site services for its diverse range of over 100,000 industrial and institutional customers. The Company helps its customers to optimize production capacity, reduce energy costs and emissions, improve product quality and enhance the safety of their operations. Spirax Sarco has strategically located manufacturing plants around the world and employs approximately 4,700 people, of whom around 1,300 are direct sales and service engineers. Further information can be found at http://www.spiraxsarco.com/us.