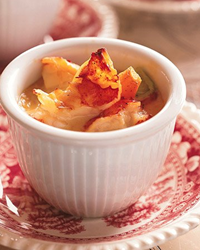 (PRWEB) January 18, 2014
In preparation for Valentine's Day, the chefs at GetMaineLobster.com are busy creating delicious, yet easy-to-prepare Valentine's Day dinner recipes. This week, two new recipes are now available that make excellent options for appetizers: Lover's Lobster Dip and Lobster Chunk Cheese Fondue.
"The Lover's Lobster Dip is a play on Lobster Newburg that is so good you will only share it with the ones closest to you," says Chef Mac Arrington. "The creamy seafood base cut with sherry and finished with buttery lobster is exactly what you would want to eat on crunchy herb toast points."
For those who can remember the 60's fondue rage, the Lobster Chunk Cheese Fondue recipe will recapture all of the fun memories of sharing good food, great stories and a lot of laughter. Be sure to use dry white wine rather than sweet wine in this recipe, as the acidity from the dry wine is needed to melt the cheeses to a smooth and creamy texture. This appetizer is steaming with creamy Swiss and Gruyere. And with large pieces of fresh Maine lobster meat, this fondue will truly turn up the heat on Valentine's Day.
For those looking to enjoy a delicious surf-and-turf dinner on Valentine's Day without having to test their culinary prowess, look no further than Get Maine Lobster's Maine Lobster Tail and Classic Beef Wellington dinner. For only $163.00, GetMaineLobster.com will deliver two three- to four-ounce Maine lobster tails, two nine-ounce Beef Tenderloin Wellingtons, two Maine crab cakes and one quart of Maine clam chowder.
Browse Get Maine Lobster's wide range of seafood offerings, access other healthy lobster recipes or view current specials by visiting GetMaineLobster.com or call (866) 562-.4817. Stay updated and Like us on Facebook or follow us on Twitter.
About GetMaineLobster.com
GetMaineLobster.com, a division of Black Point Seafood and Black Point Gourmet, hand-selects the finest Maine lobster, seafood and beef products for convenient distribution throughout the United States. Their passion is to make fresh, quality seafood readily available to customers across the country, which is why they buy from only the most trusted, well-established suppliers to ensure that they receive the finest products available.
GetMaineLobster.com was selected out of the more than four million small American businesses served by Chase bank to represent its new Platinum Business Checking product for its 2013 national advertising campaign.