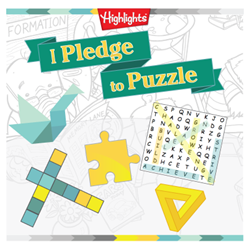 Doing puzzles is also a great family activity. Kids can learn problem-solving strategies from their parents, and the time spent together can be a wonderful bonding experience.
Columbus, OH (PRWEB) January 15, 2014
When it comes to family entertainment, few activities consistently engage both kids and grown-ups the way puzzles do. Leading educators agree that not only can puzzles provide hours of fun for children, but they can also help with the development of essential math, reading and problem-solving skills. In celebration of National Puzzle Day this month, Highlights for Children Inc., publisher of the best-read children's magazine in North America and one of the leading creators of children's puzzles, is encouraging parents and grandparents to make a "Pledge to Puzzle" — commit to spending 15 minutes doing a puzzle with a child on January 29.
"From jigsaw puzzles to Hidden Pictures to word finds, puzzles entertain and challenge young minds in a variety of ways," said Christine French Cully, editor-in-chief of Highlights for Children Inc. "When children work on a puzzle, they practice skills such as sequencing and memorization. But they also learn persistence. When kids persist, they learn they can figure it out, and achievement builds self-confidence. That's what we want for our kids—that 'I-can-do-it' attitude."
As part of its Pledge to Puzzle campaign, Highlights shared an article on its blog about some of the specific ways that puzzles help kids to learn, including:

Developing awareness of differences in visual images that look similar. This is especially critical as children learn to read and recognize letters.
Recognizing and remembering patterns, which helps children learn to build from what they know and anticipate next steps.
Developing hand-eye coordination and visual discrimination, which can support handwriting skills and the visual tracking ability needed to learn to read.
Understanding similarities of objects, shapes and patterns (a pre-math skill) and eventually letters and words (a pre-reading skill).
"In addition to helping kids learn, doing puzzles is also a great family activity," added Cully. "Kids can learn problem-solving strategies from their parents, and the time spent together can be a wonderful bonding experience. We hope all parents and grandparents of young kids will join Highlights in the Pledge to Puzzle this year."
To make the Pledge to Puzzle, visit Highlights' Facebook page. Highlights is also offering a free packet of puzzles available for download at https://store.highlights.com/landing/MiniPuzzleBook. A wide range of other puzzle products are for sale at Highlights.com.
About Highlights:
Devoted to "Fun with a Purpose," family media brand Highlights for Children, Inc. (http://www.highlights.com/) has helped children become their best selves for generations. Highlights magazines are the best-read children's magazines in North America, and total more than 250 million impressions each year. In addition to the flagship magazine, Highlights' other offerings include a preschool magazine (High Five), an infant magazine (Hello), a children's book company (Boyds Mills Press), puzzle book clubs and a variety of digital products. Hidden Pictures is a registered trademark of Highlights for Children Inc.