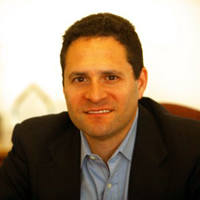 Eric brings a wealth of experience as a new technology entrepreneur and pioneer.
Rancho Palos Verdes, CA (PRWEB) January 17, 2014
Powerstorm Capital Corporation (OTC:PSTO) CEO and President, Mike J. Freni, today announced that Eric W. Golden has agreed to join Powerstorm Capital Corp.'s inaugural Board of Advisors, to serve an initial one-year term.
Eric has served in senior executive roles in a range of ventures from startups to multi-billion-dollar holding companies. From 2006 to 2013, Eric was the founder and CEO of Equipois Inc., a startup that pioneered a unique exoskeletal arm technology for manufacturing, military, medical and other industries. Equipois received a 2011 Wall Street Journal Technology Innovation Award and was named the Most Innovative Company, North America by the 2010 International "Stevie" Awards, among other honors.
Eric also founded Imagility Inc., a venture dedicated to acquiring and growing innovative technologies. He served as CEO of Imagility and two of its operating companies, Luminys Systems Corp. and Actua Systems Inc. Before these ventures, Eric was the Executive Vice President and General Counsel of Panavision Inc.; Senior Vice President and General Counsel of the Washington Redskins; and Vice President and Special Counsel to the Chairman for MacAndrews & Forbes Holdings, Inc. He received a J.D. from Harvard Law School and a B.A. from Brown University.
Eric joins Sakti3 CEO Dr. Ann Marie Sastry and New York Stock Exchange technology expert Andy Booth for a 2014 term.
Powerstorm Capital Corp. services the telecommunication industry emerging economies, primarily in sub-Saharan Africa, the Middle East, China and South America. The Company's core business consists of providing turnkey region-specific hybrid power solutions to its customers – from hardware procurement, installation and on-going maintenance and technical support. It also procures and installs base stations, backhaul systems, repurposes decommissioned telecommunication equipment and provides around-the-clock management and technical support services.
"Eric brings a wealth of experience as a new technology entrepreneur and pioneer. We look forward to working closely with Eric in the launch of our new proprietary plug-and-play power management solution that we anticipate deploying into the telecommunications marketplace this year," Freni said.
"Powerstorm's mission is compelling – providing value-added solutions to underserved segments of the growing global telecommunications industry. With unique intelligence on the future needs of this market, Powerstorm is positioned to play a leading role," said Golden.
Powerstorm Capital Corp. (http://www.powerstormcapital.com) maintains offices in Hong Kong, New York as well as an operational hub in The Netherlands, headed by Powerstorm Capital Corp.'s president, Anna-Maria Pruteanu, who spearheads the company's technical and operations teams throughout the NEMA territories.
Powerstorm plans the launch of its In-the-Box TM hybrid power solution in 2014 and other proprietary technologies in 2015 to enhance its existing energy-efficient, Opex-reducing mobile tower energy management and storage solutions.
Powerstorm's In-the-Box TM hybrid power solution includes a maximally optimized, energy-efficient cooling system contained and proportionately faster-charging batteries and comes with an installation and maintenance package. The system integrates flawlessly with solar cells and wind or diesel generators – providing substantial cost reduction to telecommunication and data center operators – with minimal environmental impact and no down time.
This release contains forward-looking statements concerning market developments for our products and corresponding value propositions for our customers. These forward-looking statements reflect Powerstorm's current expectations as contemplated under section 27A of the Securities Act of 1933, as amended, and Section 21E of the Securities Exchange Act of 1934, as amended. Any such forward-looking statements are based on Powerstorm's assumptions relating to its financial forecasts and expectations regarding its product development efforts, manufacturing capacity, and market demand.
These statements involve risks and uncertainties that may cause Powerstorm's actual results to be materially different, including general economic and regulatory changes, detrimental reliance on third parties, successfully achieving our business plans and achieving and sustaining profitability. For a detailed discussion of these and other risk factors that could affect Powerstorm's future performance, please refer to Powerstorm's most recent Annual Information on Form 10K. Readers should not place undue reliance on Powerstorm's forward-looking statements and Powerstorm assumes no obligation to update or release any revisions to these forward looking statements, other than as required under applicable legislation.
For more information, please contact Milena Rimassa at milena(dot)rimassa(at)gmail(dot)com.