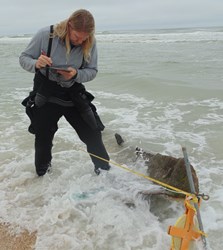 This is probably the most exposed we've ever seen the wreck.
Ponte Vedra Beach, Fla. (PRWEB) January 16, 2014
Archaeologists from the St. Augustine Lighthouse & Museum braved cold winds and crashing waves on Thursday, Jan. 2nd, to research a piece of history submerged in the Ponte Vedra Beach, Fla., shoreline. A shipwreck measuring more than 80 feet long was revealed at low tide on New Year's Day.
"This isn't the first time we've seen this wreck," said Chuck Meide, Director of the Lighthouse Archaeological Maritime Program (LAMP). "We were out here in 2008 when we first discovered it, but this is probably the most exposed we've ever seen the wreck so we were able to do more mapping and measurements than before."
The ship's composite construction of wood and iron dates the vessel's origins from the 1860s to the early 20th century, but determining the wreck's identity has been a little more difficult. After their first look at the wreck in 2008, LAMP put together a list of ten wrecks recorded in the Ponte Vedra Beach area between 1866 and 1974. They were not able to narrow the list down at the time, but with the additional data gathered on Thursday, the picture is becoming a little clearer.
"We have a photo from the fall of 1947 that shows an unnamed schooner wreck in the same area, near what's now Mickler's Landing," said Meide. "It appears to be about the same size and age and in the same position, roughly parallel to the coast, as the wreckage we've found."
Hoping to find the ship's name, archaeologists compared a list of 1947 storms from the National Weather Service to issues from the St. Augustine Record, but were not able to find an article on the wreck. They plan to check the Florida Times-Union archives next.
It is still not a definitive identification, but the LAMP team will continue to investigate and monitor the wreck site as it is periodically exposed by passing storms.
LAMP is also entering its fifth year of research on a 1782 British wreck submerged about a mile off the St. Augustine coast. The Revolutionary War era-vessel has already yielded a number of artifacts including cannons, muskets and cauldrons that are currently under conservation and on display at the St. Augustine Lighthouse & Museum.