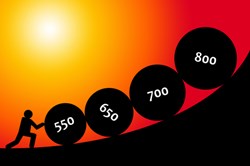 Rockville, MD (PRWEB) January 16, 2014
Building a strong financial footing makes most people's lists of New Year's Resolutions, but few realize how much a credit score contributes to their situation. If consumers realized just how much having a good credit score can impact their overall financial picture, building credit would top the list of priorities.
The truth is, the difference between good credit and bad credit can mean thousands of dollars when the time comes to take out a mortgage or apply for other kinds of loans.
While high scores, in the 760 to 850 range, will earn you lower interest rates and more loan choices, cardholders with scores lower than 620 will usually end up in the "subprime" category. Not only will the interest rates be higher, there may be fewer loan options, as well.
For cardholders of OpenSky's Secured Visa® Credit Card, using credit to build credit can offer a number of advantages.
"As a secured card, the OpenSky Visa is designed to help cardholders build credit quickly," explains OpenSky President Nick Bryan. "We encourage people to actively use the card for purchases and to make payments on time in order to build their credit history."
Another benefit OpenSky cardholders enjoy is monthly reporting to all three major credit bureaus. "The first step to taking control of your credit rating is knowing your score," Bryan says. "With lenders and even employers relying increasingly on credit checks as part of their approval process, a strong credit rating is more important than ever."
"The good news is, bad credit can be turned around," says Bryan. "With discipline and time, anyone can achieve a solid credit rating." To find out more about OpenSky, visit
http://www.openskycc.com.
About OpenSky:
OpenSky is a business line of Capital Bank, N.A., a full service commercial bank in the Washington, D.C. metropolitan area. A top-ranked bank based on performance, it is the only bank in Maryland and Washington, D.C. to make the American Bankers Association Journal (ABA Journal) list of top 100 performing community banks in the class of over $100 Million in Assets. With nearly $500 in assets, Capital Bank offers a full range of banking services including cash management, commercial lending services, residential mortgage and consumer credit. For more information about the Bank, visit http://www.capitalbankmd.com. Member FDIC. An Equal Housing Lender.