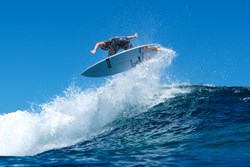 We are really excited to have Duggan come on as just our second head-to-toe athlete. Not only is he a super young, motivated kid, but he's a really hard worker and hungry to make a name for himself. - Paul Brewer SUPERbrand Marketing Director
Carlsbad, CA (PRWEB) January 15, 2014
SUPERbrand is excited to announce the head-to-toe signing of surfer Jack Duggan to the SUPERbrand team, representing both the surfboard and apparel sides of the brand. Duggan joins SUPERbrand's team of progressive surfers, including Dion Agius, Clay Marzo, Ry Craike, Gabriel Villaran, Carlos Munoz, and many others who already ride the boards, as well as Fisher Heverly on apparel.
From Coolum, Australia, and at a spry 18, Duggan is carving a name for himself as a top talent in the new crop of young Aussie up and comers. And with strong results at ASP Australasia Pro Junior events this year, he's leaving an impression on the competitive world surfers along the way. It's safe to say Duggan is well position to find that unique spot between competitive success and free-surfing pleasure.
"We are really excited to have Duggan come on as just our second head-to-toe athlete," said Paul Brewer, SUPERbrand Marketing Director. "Not only is he a super young, motivated kid, but he's a really hard worker and hungry to make a name for himself. We love the diversity of our team."
"I'm really proud to be a part of the SUPERbrand crew for surfboards and apparel," said Duggan. "The surf team is so good! The surfboard shapes and graphics are insane, and the apparel product is pretty amazing."
Visit SUPERbranded.com for an extended welcome video we put together of Duggan shredding up and down the east coast of Australia http://www.superbranded.com/news/jack-duggan-hits-the-road-a-welcome-video#.Usc8mpFZImw.
This year young Duggan logged some time in Bali outside of his contest schedule and is now working on a couple special projects for SUPERbrand. He'll be working closely with SUPERbrand Shapers Collective members in Australia, the US, and Portugal to refine his boards and dial in the entire board range. Check back for more video clips and photos from Duggan's upcoming travel and contest adventures.
***
About SUPERbrand, LLC
SUPERbrand, founded in 2008 with team riders Dion Agius, Clay Marzo, and Ry Craike, is all about progression. By joining a team of young, innovative Surfboard designers—the SUPERbrand Shapers' Collective—with a skate-influenced aesthetic and full-board graphics, SUPERbrand set new standards of excellence in the surfboard industry. In June 2010, SUPERbrand launched its first Men's Apparel Collection, an assortment that followed the youthful, progressive, high-quality aesthetic of the Brand. With the bones in place, distribution carefully grew to core markets and fine boutiques in the US, Australia, and select other regions. 2012 saw the entrance of SUPERbrand Women's Collection. Like the rest of SUPERbrand, the Collection refuses to be categorized and fills a void in the fashion/surf/skate/whatever worlds. More at SUPERbranded.com.