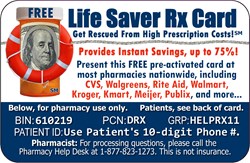 Life Saver Rx Cards are the most cost-effective way for medical professionals to address patient medication non-adherence, relating to high prescription costs.
Bigfork, MT (PRWEB) January 15, 2014
Patient medication non-adherence causes 125,000 deaths annually and costs Americans an added $300B in health-care related costs (emergency room visits, hospitalizations, premature doctor's visits, and other related costs).
Prescription affordability is a large contributing factor to non-adherence. Now there's a way for patients to "get rescued from the high cost of prescription drugs", with the new Life Saver Rx Card program, which provides medical providers with a simple, cost effective way to improve patient medication adherence, and improve patient-care outcome. Click here to watch a short video about this new program.
The Life Saver Rx Card is a powerful tool that can be easily integrated by all health care professionals, at no cost. By simply taking a moment and giving each patient a free card, care-givers can help to remove the financial obstacles that keep patients from getting their prescriptions filled at local pharmacies.
Cards provide an average discount of over 50% off the retail price of prescriptions, and as much as 85% off, at most pharmacies nationwide, including CVS, Walgreens, Rite Aid, Walmart, Kmart, Target, Kroger, Giant Eagle, Publix, Winn-Dixie, and more - over 63,000 pharmacies nationwide.
No personal information is needed to print cards, which are pre-activated for immediate use.
Both medical providers and consumers are encouraged to order free Life Saver Rx Cards to gain immediate access to lower prescription costs. The program is 100% funded by private channels, including the pharmacies that honor the cards. There is no cost to consumers, or providers, to get cards.
Provider and consumer questions about the program can be answered by calling Customer Service at 1-855-228-7379 or by visiting LifeSaverRx.com.