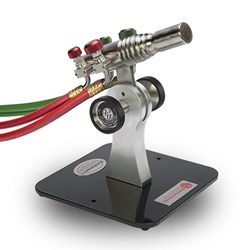 Hellertown, PA (PRWEB) January 15, 2014
Bethlehem Burners, a manufacturer of surface-mixed glassworking torches since 1950, will be attending the 30th Champs Trade Show, January 21 through January 23. a popular business-to-business counterculture trade show, at the Las Vegas Convention Center. The torch manufacturer will be sponsoring the trade show's famous Glass Games, an internationally know glassblowing competition which features world famous glass artists.
Bethlehem Burners will be displaying their entire torch product line at booth #1923, including the Alpha, Bravo and the brand's newest Champion glassworking burner. Representatives at the booth will be present to answer questions about products and services, and take orders.
The Champs Trade Show is one of the world's largest counterculture trade shows, attracting glass artists and wholesale and retail buyers from around the world. The Champs Glass Games, also known as the Champs Flame-Off, is a glassblowing competition featuring World-renowned glass artists. Bethlehem Burners, whose booth is located directly across from the Flame-Off, will be sponsoring the event, which awards over $50,000 in cash and prizes.
To learn more about Bethlehem Burners events or products, visit the company's website at http://www.bethlehemburners.com or official Facebook page at http://www.facebook.com/bethburners.
About Bethlehem Burners
Bethlehem Burners, a division of Bethlehem Apparatus Company, Inc., is a manufacturer of surface-mixed glassworking torches and accessories since 1950. Reengineered for better performance and higher safety, Bethlehem Burners low-pressure torches are constructed entirely of stainless steel and feature the brand's signature wrap-around flame.
For more information, please contact Kate Hayes at (610) 838-7034 or via email: khayes(at)bethapp(dot)com
###