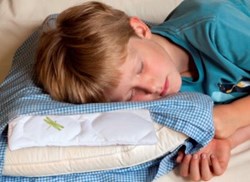 This data reinforces what we are seeing clinically with children and adults who suffer from stress, anxiety and trauma – the Dreampad helps them relax and improves behavior related to sleep.
Denver, CO (PRWEB) February 19, 2014
An innovative sleep quality measure was recently used by researchers from Integrated Listening Systems (iLs) to measure the somnolence of subjects using a new product designed to evoke a state of relaxation. The product, a pillow that delivers music through vibration that is audible only to the user, has earned positive feedback from therapists saying it increases relaxation across varied populations, including those with sleep, attention, trauma and developmental challenges. To help objectively support these observations, SleepImage was chosen for its clinically validated ability to measure sleep quality and somnolence through Cardiopulmonary Coupling (CPC), a unique technology that uses Heart Rate Variability (HRV) and respiratory rate to measure parasympathetic system activity.
The study involved 11 healthy adults with no stress related symptoms. Nine of the eleven adults showed a significant increase in Parasympathetic activity (associated with relaxation) after 15 minutes of using the Dreampad. Using a tiny sleep recorder from SleepImage, level of relaxation was measured through HRV and breathing rate.
Says Dr. Kelly Olson, Clinical Director of SleepImage, "The SleepImage results, while preliminary, clearly show that the Dreampad pillow promotes parasympathetic dominance, which creates a more favorable environment for resting and sleeping."
About SleepImage:
MyCardio, LLC develops and markets SleepImage with a Vision to establish sleep as a Vital Sign of good health and collaborate with strategic partners to offer a clinically valid, cost effective and easy to use tool to objectively measure sleep quality.
About iLs:
Integrated Listening Systems, LLC provides a sound and movement program to promote brain/body fitness. iLs' newest product, the Dreampad™, provides a non-invasive means for individuals with stress, trauma and insomnia related symptoms to optimize their health through a good night's sleep.