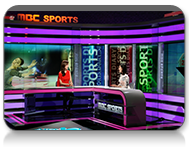 We are heartened by the response of South Asian broadcasters in embracing our advanced visual solutions.
(PRWEB) January 16, 2014
Christie® is showing its latest visual solutions at the 20th International Conference & Exhibition on Terrestrial and Satellite Broadcasting (BES Expo 2014) from Jan. 14 to 16 at Pragati Maidan in New Delhi. Once again, strengthening its position as the market leader, Christie India will showcase its suite of innovative, reliable and financially accessible visual solutions in the broadcast arena.
Working jointly with its key partner – Falcon Technologies, Christie will showcase a broad range of cutting edge technologies and solutions that not only offer superb performance, but are also backed by years of proven industry experience and technical know-how. Visitors will be able to experience the impressive 1-by-2 array live display of the Christie Entero™ HB display wall cubes, or experience the versatility of Christie MicroTiles® in a simulated broadcast setting. Christie Spyder X20 – the next generation video processor with advanced video processing and matrix switching capabilities, drives both live displays.
As the global innovator of visual solutions, Christie's Entero series is a highly attractive option for perspective clients who seek cost-efficient, 24/7 mission-critical control room displays. The 1-by-2 stacked 67–inch DLP® LED-based solution at the show displays real-time feeds from several IP cameras placed around the booth. The smooth visuals are then projected on the video wall to display different contents and information.
Offering the highest brightness in the market, the industry-leading Christie® Entero™ HB series is designed for zero maintenance. It provides simple, intuitive hardware installation, minimal set-up time and effort, and a modular design for fast and easy servicing if required – with no scheduled maintenance for at least five years. Its Christie ArraySync™ also provides superior, intelligent, automatic color and brightness wall management.
Another highlight at Falcon Technologies' booth is a simulated broadcast setting complete with a news anchor's desk featuring a row of four units of MicroTiles in front of the desk, as well as an array of four units by four units of MicroTiles in the backdrop. Christie MicroTiles are renowned for their ability to maintain color depth, high contrast and high brightness in high ambient light settings. With their ultra-high resolution images and color fidelity and saturation – especially rich, deep blacks – the MicroTiles' unique qualities make them the ultimate digital canvas for creating an eye-catching set that's perfect for high-definition television broadcasts.
The popularity of Christie MicroTiles and Christie Spyder continues to grow in South Asia, as the two products have successfully made their way into TV studios in India and Bangladesh. India Today Group utilized a Christie Spyder video processor in its news studio, while three leading TV stations in Bangladesh – Maasranga TV, Ghazi TV and SA TV – deployed over 260 Christie MicroTiles as the main backdrop displays in their studios. The three TV stations are also using the Christie Spyder X20 video processor for managing the high resolution contents on the screen with multiple windows. Recently, Kerala-based Malayala Manorama TV in South India became the latest TV station to harness the outstanding capabilities of Christie's Entero HB 70" HD video wall display cubes.
"We are heartened by the response of South Asian broadcasters in embracing our advanced visual solutions, particularly the Christie Entero and MicroTiles which provide flexibility and versatility with almost boundless application possibilities and configurations limited only by the imagination," said Lin Yu, vice president, Christie Asia Pacific. "We're hopeful that through BES Expo 2014, we will be able to reach out to more broadcasters and further enhance the Christie brand in the region."
About Christie®
Christie Digital Systems USA, Inc. is a global visual technologies company and is a wholly-owned subsidiary of Ushio, Inc., Japan. Consistently setting the standards by being the first to market some of the world's most advanced projectors and complete system displays, Christie is recognized as one of the most innovative visual technology companies in the world. From retail displays to Hollywood, mission critical command centers to classrooms and training simulators, Christie display solutions and projectors capture the attention of audiences around the world with dynamic and stunning images. Visit http://www.christiedigital.com.
For more information, contact:
CHAN Tsung Yi
Public Relations Manager
Asia Pacific
Phone: + 65 6877 8793
Email: tsungyi.chan(at)christiedigital(dot)com
Christie® is a trademark of Christie Digital Systems USA, Inc., registered in the United States of America and certain other countries.
DLP® is a registered trademark of Texas Instruments.