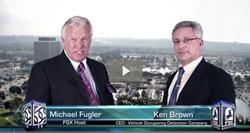 Indeed, 'Holy Grail of Detection' were my unprompted words to describe the HOV detection application, since it has defied the attempts of other researchers in the field for over thirty years.
(PRWEB) January 21, 2014
The Vehicle Occupancy Detection Corporation was one of the presenting companies interviewed at the recent FSXinterlinked Investment Conference held at the Ritz Carlton in Marina Del Rey, California.
During the interview Vehicle Occupancy Detection Corporation's CEO, Kenneth Brown pointed out that VODC has the only technology that can differentiate humans from non-humans, the essential requirement for the new dynamic pricing lanes, which have turned out to be a tremendous new source of revenue for cash-strapped states.
The first dynamic pricing lanes in the U.S. are Virginia's DC Capital Beltway, a 12-mile stretch leading into Washington DC which became operational in November 2012. Toll revenue increase 82% in its first quarter, Q1, 2013 with an increase of 38% in average weekday traffic and 32% higher in the average toll. By Q3, 2013, average daily traffic volume increased from 23,300 to 37,600, average toll increased from $0.98 to $1.71 and toll revenue increased from $6.6 million per mile to $19.0 million per year.
Furthermore, researchers found that drivers on the toll express lanes consistently pay $1 to $2 per minute ($60 to $120 per hour) of time saved, far more than conventionally estimated values of time saved.
VODC's first production model is currently undergoing formal technology trials at CALTRANS (California Department of Transportation). Caltrans has stated a need for 4,000 units. Additionally, VODC has received interest from several other states as well as countries around the world.
"Although the ability to identify people through automotive glass in moving vehicles without the use of visible light is essential for traffic control, we see applications for the Department of Homeland and Intelligence sector as possibly our biggest markets and we have had strong interest from these sectors."
"Indeed, 'Holy Grail of Detection' were my unprompted words to describe the HOV detection application, since it has defied the attempts of other researchers in the field for over thirty years." Professor Arthur MacCarley, Ph.D., P.E., Professor of Electrical and Computer Engineering at California Polytechnic State University, San Luis Obispo, California.
You can watch John Chambers' discussion of the VODC's technology at http://www.VehicleOccupancyDetection.com.
The interview was conducted by FSXinterlinked Investment Conference Host,Michael Fugler, and is available on the FSXinterlinked channel on InterlinkedTV. More information is available at Vehicle Detection's company profile on Interlinked.com.
****************************************************************************************
About FSXinterlinked Investment Conference FSXinterlinked is the premier investment conference organization in the United States. Founded as Financial Services Exchange (FSX) in 1983, it is a national organization comprised of independent FINRA broker/dealer firms and private equity fund managers. With quarterly investment conferences hosted throughout the U.S., FSXinterlinked creates a forum for emerging growth companies seeking capital to present to a nationwide network of financial investment professionals.
The FSXinterlinked network of independent broker/dealers has a combined sales force of thousands of accredited investors looking to invest in companies of all sizes and industries. To date, more than $3 billion has been raised for presenting companies through the FSXinterlinked network. FSXinterlinked's exclusive network of FINRA firms makes the investment conferences the ideal setting for private and public companies seeking mezzanine financing, funding for private placements, IPOs, secondary financing and pipes, exposure, and more. For more information, visit http://www.fsxinterlinked.com/.
Interlinked is a global investment community of accredited investors, emerging growth companies, and resource partners. Interlinked offers an efficient way for companies to maximize exposure and access a private network of funding sources and verified service providers. For investors, Interlinked provides a secure environment to find, vet and engage companies, and communicate with members. Interlinked gives members exclusive access to a proprietary investment platform, which integrates virtual data rooms, video news, a service provider marketplace, an event directory, and customized marketing services, including email marketing, video production, public relations and more. For more information, visit: http://www.interlinked.com/.
Safe Harbor Statement This press release may contain information that constitutes forward-looking statements made pursuant to the safe harbor provisions of the Private Securities Litigation Reform Act of 1995. All statements, trends, analysis, and other information contained in this press release, including words such as "anticipate," "believe," "plan," "estimate," "expect," "intend," and other similar expressions of opinion, constitute forward-looking statements. Any such forward-looking statements involve risks and uncertainties that could cause actual results to differ materially from any future results described within the forward-looking statements. Risk factors that could contribute to such differences include those matters more fully disclosed in the Company's reports filed with the Securities and Exchange Commission. The forward-looking information provided herein represents the Company's estimates as of the date of the press release, and subsequent events and developments may cause the Company's estimates to change. The Company specifically disclaims any obligation to update the forward-looking information in the future. Therefore, this forward-looking information should not be relied upon as representing the Company's estimates of its future financial performance as of any date subsequent to the date of this press release.