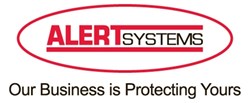 It is important as the owner of a business that you do everything within your power to protect the assets you have
(PRWEB UK) 17 January 2014
According to an article entitled 'Witness appeal following spate of burglaries at Wirral businesses' published in the Wirral Globe on the 14th of January, 2014, Police have been urging owners of small businesses in the Wirral area to remain vigilant following a series of attacks in recent weeks. Police have reminded businesses that might be vulnerable to attack that they should have the necessary commercial security systems put in place such as CCTV and alarm systems in order to deter criminals. Police have also suggested that business owners do not leave anything of value in the shops overnight.
Some cases have seen burglars force entry through metal shutters or by climbing in through first floor windows. Police advise that every precaution is taken in order to prevent victimisation.
As providers of CCTV security systems, AlertSystems like to remain up to date with all security related news, and as such have commented on the news –
'Some criminals may be deterred by the sight of a CCTV camera, or an alarm system – their presence is a reminder that they there is a possibility that they may get caught. It is important as the owner of a business that you do everything within your power to protect the assets you have – this means investing in commercial security systems that don't just provide a deterrent, but also a means of providing evidence against suspects that attempt to victimise small businesses.
'Commercial security systems provide an element of security both when you are away from the shop or business and an element of safety for staff when the business is open.'
AlertSystems manage and maintain over 5000 security installations throughout the UK and are specialists in providing business security solutions. Offering professional service and a complete range of security services such as monitored alarm systems, Automatic Number Plate Recognition and Avigilon CCTV security systems. AlertSystems offers effective and reliable solutions to security problems.