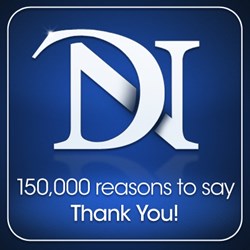 For us, growing our social community has been a ton of fun.
(PRWEB) January 15, 2014
For the past four years Diamond Nexus has been growing its social media presence, beginning with it's Facebook community, which as of this week, is now 150,000 strong.
Following a great company Facebook page is a lot like opting into a community: to gain knowledge, entertainment, news and friendship.
"For us, growing our social community has been a lot of fun," says Kyle Blades, Director of Marketing. "We've gotten to know many of our fans on a personal level, and have largely garnered a level of trust with them not seen with too many e-commerce companies."
Since June 22, 2009, new Diamond Nexus Facebook fans have been gaining exclusive first looks at its affordable man-made diamond rings and products such as their designer ring collections and recently launched fashion jewelry line.
Fans have also had the convenience of utilizing the company's Customer Request photo albums, where Social Media Coordinator Jennifer London has organized what is now totaling thirteen albums of ring and band options, per request by fans.
2013 saw a number of Facebook giveaways, including the popular "Studs Wear Studs" earring giveaway, Rainin' Rings (giving out $500 in credit and over $100 in Rain Cosmetics) and the most recent Christmas sweepstakes, giving away a matching bedazzled ruby simulant pendent and earring set that was a perfect holiday present for Diamond Nexus' fans.
This year, there are more contests in store. "Successful Facebook contests are fun to win, but take a lot of planning to pull off," admits Blades. "They are an absolute labor of love, and our incredibly talented social and creative teams will continue to work in tandem in 2014 to amaze and wow our customers, on Facebook and beyond."
Today, Diamond Nexus' social footprint extends outside of Facebook — on Twitter and Instagram @DiamondNexus, on Google+, Pinterest, Polyvore and more.
Diamond Nexus was founded in 2004 with the purpose of bringing to the public the powerful benefits of the lab-created diamond stimulant revolution. They have over 250,000 customers worldwide that have awarded them an "A+" rating with the BBB, and are the ninth largest online jewelry retailer in America according to the 2011 IR500 list. For three years in a row brides from The Knot have selected them as their Best of Jeweler. Diamond Nexus currently has a flagship location at Woodfield Mall in suburban Chicago.