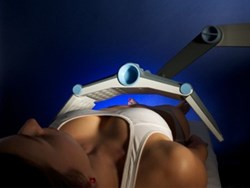 St. Louis, MO (PRWEB) January 15, 2014
Renaissance Plastic Surgery is proud to announce its newest offering in non-invasive fat removal technology, Vanquish. A cutting-edge radio frequency device, the Vanquish system selectively targets fat cells in the stomach, love handles, and lower back to take inches off the waistline without discomfort or downtime associated with traditional cosmetic surgery. Renaissance Plastic Surgery is the first in the Midwest to acquire Vanquish, a proven non-surgical treatment that shrinks fat cells without the pain of freezing.
With Vanquish, patients are able to restore their core. The technology works by delivering radio frequency waves targeted at fat cells, heating them up and causing cell death without damaging the surrounding tissue. After the fat cells die, they're filtered out of the body via the lymphatic system, a process which occurs over the course of a few weeks. While patients frequently report that they can see a difference in a matter of days after the first treatment, the greatest results will be seen a few weeks after the final treatment. Generally six treatments are recommended, but consult with your physician for a personalized plan.
Vanquish is the perfect solution for women and men who are within roughly 10 percent of their ideal weight, but have seen changes in their core that are resistant to exercise. The Vanquish procedure package at Renaissance Plastic Surgery includes six treatment sessions, each of which lasts roughly 30 minutes. The only thing asked of patients is that they drink plenty of water before and after every treatment session, after which they can return to their normal daily activities.
Renaissance Plastic Surgery is the only cosmetic practice in St. Louis that currently offers the Vanquish technology. For more information on Vanquish, visit http://www.vanquishtummyfat.com.
Renaissance Plastic Surgery (RPS) offers the latest technology in plastic surgery as well as exceptional cosmetic skin care at its medical spa. With three board-certified plastic surgeons, experienced nurse injectors, aestheticians, and expertly trained staff, RPS's goal is to provide patients with attractive, natural-looking results. Through stellar ratings and patient testimonials, RPS has earned the reputation as premier provider of plastic surgery and medical spa procedures in the St. Louis, St. Charles, and St. Peters, Missouri areas.
###