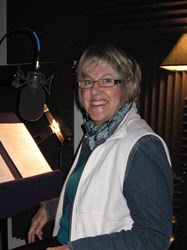 I've dipped into The Land: Our Gift and Wild Hope, and found it a fascinating and passionate book. Taylor's memoir-essays weave compelling stories, her voice shines through.
Evergreen, Colorado (PRWEB) January 28, 2014
Shining a bright light on the environmental and societal issues facing the American Southwest, Rae Marie Taylor completes narration of her series of essays compiled in "The Land: Our Gift and Wild Hope". The audiobook is set for release in February by Brook Forest Voices.
An artist, writer and poet, Rae Marie Taylor, born in Colorado, has taught language, literature and creative writing in her primary residence, Quebec. "The Land: Our Gift and Wild Hope" recounts Rae's repatriation to New Mexico, where she moved as a child, and the pain engendered by the reality that her childhood home had changed. This is a journey told in a woman's voice. The language is intensely personal with Rae openly searching for the fragments that will lead her back to the feeling of being alive, physically and spiritually, in the silence and wonder of the wilderness. Therefore it's very fitting that Rae elected to narrate this compelling and informative audiobook at the Brook Forest Voices Studio in Evergreen, Colorado.
About Brook Forest Voices: a complete audio production studio located just west of Denver in Evergreen, CO, specializing in audiobook narration, production and publishing. BFV is designed to help large and small publishers, as well as authors, with all their audio needs. Publishers and authors wanting to learn more can visit http://www.brookforestvoices.com or contact Jaime Andrade, BFV Business Manager at 303-670-4145.